How Hotels Can Open the Door to Both Online and Offline Word of Mouth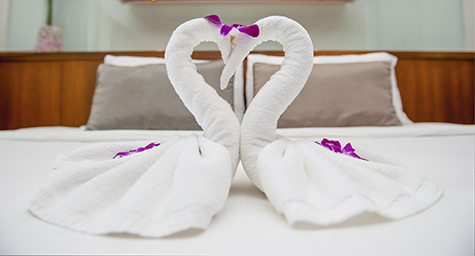 Today, the key to getting people to stay at your hotel is positive word of mouth. This was the fundamental finding of a new report by Engagement Labs that showed how online and offline recommendations led to consumer retention. While many hospitality brands are using social media to get people sharing and staying, the report found that it's just as important to generate recommendations. And independent research has shown that word of mouth drives $6 trillion of consumer spending, with $2 trillion related to online efforts and $4 trillion to offline. For this report, Engagement Labs analyzed nine popular hotel chains and ranked The Ritz-Carlton Hotel Company highest in both online conversations and social media engagement. Yet the luxury brand fell to sixth place in offline word of mouth. This presented an opportunity for The Ritz-Carlton to increase its offline recommendations, so Engagement Labs provided tips to enhance its word of mouth. LuxuryDaily.com featured their trusted tactics.
Content is the Key to Conversations and Conversions
Engagement Labs emphasized that content and creative are essential to generating word of mouth, both online and offline. Hotel marketing experts need to create content that people want to see and share, or else it will be forgotten. When the content gets people buzzing, it's bound to boost bookings because it's increasing both awareness and approval of the brand.
The Ritz-Carlton has had great success online because they strive to engage guests at digital and mobile touchpoints even after they've departed. This has allowed them to build relationships that make guests extol their experiences. Since they have such a strong online presence, the hotel needs to leverage this by posting creative content that takes the conversation offline.
Take Action for Satisfaction
According to the report, the way guests perceive a hotel affects if they'll return and recommend it. That's why hotel brands need to enhance the guest experience and cater to customers' needs. While these efforts need to occur throughout their hotel stays, they must begin at the moment they book and continue after they've left.
By giving guests an exceptional experience before, during, and after their stays, this provides reasons to recommend a brand. The more reasons a brand gives them, the more frequent and fervent their recommendations.
Remind to Recommend
Hotels must treat the customer base as a primary marketing asset since their recommendations will drive greater business to the brand. When the hotel has exceeded expectations or provided extraordinary experiences, express these stories to customers to give them share-worthy content and remind them of their own satisfaction.
Another way to remind guests to share their experiences is by developing special promotions that ask guests to submit their stories. These personal experiences can be more valuable than any hospitality marketing since they serve as real-life reminders of the way a brand strives to satisfy.
Strike a Balance Between Online and Offline
According to the researchers, while social media is becoming more important today, hotels shouldn't overlook or underestimate the power of word of mouth.
"Overall, brands should understand that just focusing on online social media or offline word of mouth is not enough," said Bryan Segal, CEO of Engagement Labs. "The most successful marketers should have a twin social strategy that embraces both online and offline. Driving attention to the combination and how both combined can amplify the message and drive sales."
Stay up to date on hospitality marketing. Contact MDG.
MDG, a full-service advertising agency with offices in Boca Raton and New York, NY, is one of Florida's top hospitality marketing companies and branding firms. MDG's core capabilities include advertising, branding, logo design, creative, infographic development, digital marketing, creative media planning and buying, radio and TV advertising, website design and development, email marketing, mobile marketing, content marketing, social media marketing, and SEO. To stay on top of the latest trends in hotel marketing and advertising, contact MDG.