How Marketers Can Reach the Millennial Man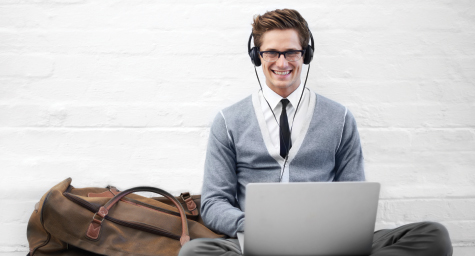 Innovator, trendsetter, digitally savvy, and constantly connected. This is today's Millennial man and marketers are desperate to reach him. Perhaps it's his hundreds-of-billions of dollars in spending power and immense influence on Boomer parents. Or maybe it's the fact that he's 30% of the male TV market and his media-consumption habits have a major impact on brands. Actually, it's all of these reasons and more that make these 18- to 34-year-old men the focus of modern-day marketers. The best way to reach these men is by understanding their minds and motives and following their lead. To get to know the Millennial man, Nielsen.com tracked his traits to find out how to reach him.
Defined by Digital
Millennial men are deeply involved in the digital world in all aspects of life. They've traded the traditional for an online, social, and gaming existence. Consider the media mindset of the U.S. Millennial male:
Spend substantially more time each week viewing videos on the Internet than any other demographic.
Watch much less traditional TV each week than other generations.
88% listen to radio each week, making them much heavier music listeners than their female counterparts.
Display greater interest in personalized streaming audio services than other demographics.
70% engage in social networking, with 38% on Twitter.
57% download apps.
56% download games.
Making Business a Social Activity
Contrary to marketing myths, Millennial men can be reached and often reach out to the brands they prefer. They follow brands they're interested in by following them on social media. They turn to Facebook, Twitter, and blogs for company news they believe they can trust. While many think they're immune to marketing, they actively seek out information about the brands that interest them. And they're less concerned with the growing amount of personal data that companies try to collect today.
Secrets of Their Spending
Due to college debt and unemployment, Millennial men have less to spend than other demographics. So when they're dropping dollars, how have they been spending them?
Spend a total of $17 billion a year across all retail categories.
Average $2,200 each on retail spending each year.
$1.7 billion spent on electronics annually.
Spend more per shopping trip than Millennial women, but make fewer shopping trips overall.
The Millennial man's not a mystery once you tap into his tech-centric nature. He's simply a trend-seeking, app-tapping young consumer who is very receptive to marketing that speaks to his social and digital needs.
Keep up with the latest in digital marketing. Contact MDG today at 561-338-7797 or visit www.mdgsolutions.com.
MDG is a full-service advertising agency and one of Florida's top branding firms. With offices in Boca Raton and New York City, MDG's core capabilities include branding, logo design, print advertising, digital marketing, mobile advertising, email marketing, media planning and buying, TV and radio, outdoor advertising, newspaper, video marketing, Web design and development, content marketing, social media marketing, and SEO. To discover the latest trends in advertising and branding, contact MDG today at 561-338-7797.