How Marketing Can Help Hospitals Dispense a Better Patient Experience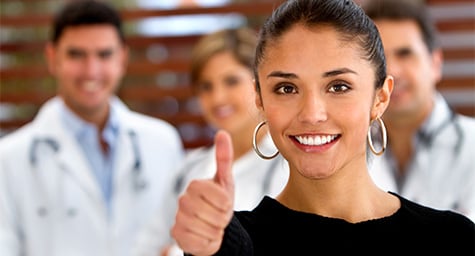 Healthcare providers have traditionally been in control of the medical relationship. But today with the Internet, this relationship has been reversed and patients are more empowered than ever. Now, patients can research, compare, and judge hospitals and healthcare providers with a few quick clicks. This lets patients learn about medical care from the experiences of others. This feedback is very powerful and affects a patient's choices for care. To ensure positive word-of-mouth and keep people coming in for care, healthcare providers must deliver the best patient experience possible. Health organizations should follow the lead of other businesses and use their healthcare marketing to improve the experience they provide to patients. Forbes.com featured ways to ensure a healthy patient experience.
Run a Reliable Operation
Healthcare is a human-focused service. Unfortunately, healthcare providers are also human and can sometimes be exhausted and inconsistent. But since patients expect their healthcare providers to be reliable and consistent, it's vital to train all employees to provide reliable care and be accurate in all medical matters for every patient, every time.
Do Assure, Don't Assume
Patients are scared and uncertain in medical situations, so it's important for healthcare providers to assure every patient that they're getting the care they need. Many hospitals assume that patients are calm and confident, but that's usually not the case. Instead, they need to talk openly with each patient about the specifics of their care and encourage an ongoing dialogue to provide the assurance they need.
Exhibit Empathy
When healthcare providers have empathy, it shows that they're sensitive to the patients needs and helps them convey recommendations in a kind, supportive way. This makes patients feel more comfortable with both the hospital and the treatment, which results in better patient perception and a more satisfying hospital experience.
Practice Responsible Responsiveness
When patients have a health issue, they need guidance throughout their journeys. Hospitals need to provide this support by being responsive to their questions and informing them on the timing of care. This makes patients feel like they're in good hands and that the hospital is taking great care of them.
By following these guidelines, hospitals can improve their healthcare marketing efforts, which can help patients feel very good about their care experience.
Check up on the latest in healthcare marketing. Contact MDG today at 561-338-7797 or visit www.mdgsolutions.com.
MDG, a full-service advertising agency with offices in Boca Raton and New York City, is one of Florida's top healthcare marketing companies and branding firms, whose healthcare clients include Dental Care Alliance, MDVIP, Max Planck Florida Institute, HCA East Florida, Primary Pharmaceuticals, and MD Now. MDG's core capabilities include branding, logo design, print advertising, digital marketing, mobile marketing, email marketing, media planning and buying, radio and TV advertising, outdoor, newspaper, video marketing, infographic development, website design and development, content marketing, social media marketing, and SEO. To learn more about the latest trends in healthcare marketing, contact MDG today at 561-338-7797.