How Millennials Are Changing the Workplace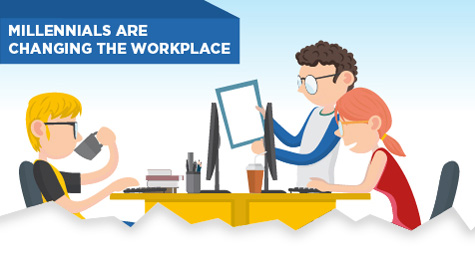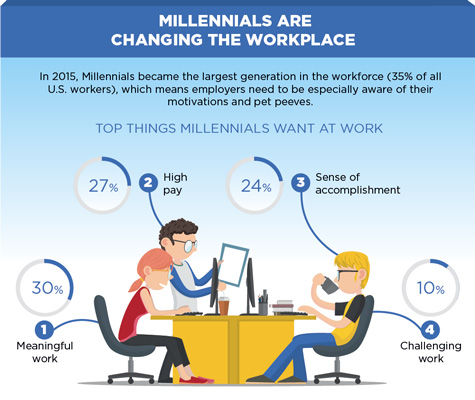 Earlier this year, Millennials (adults ages 18 to 34) surpassed Gen X (age 35 to 50) to become the largest generation in the American workforce.
This shift has major implications for companies of all sizes, from startups to enterprises. Millennials have very different workplace expectations from previous generations, and marketers who fail to take these into account face the prospect of low morale, high turnover, and difficult recruiting.
What do Millennials think of working and workplaces in general? According to a survey of more than 1,000 of them, there is one core theme: freedom.
Some 58% of Millennials expect to leave their current job within three years and 52% believe corporate loyalty is outdated. Moreover, 79% would consider quitting to work for themselves.
In other words, Millennials do not believe that they are obligated to their employer, and are only willing to sacrifice their independence if it is worth it.
The good news is that the companies that manage to hold onto Millennials are rewarded with valuable workers. More than two-thirds (68%) of hiring managers report Millennials possess skills previous generations don't have, 82% think Millennials are more technologically adept, 60% say Millennials learn skills more quickly, and 57% believe Millennials are more likely to come up with fresh ideas.
For brands looking to succeed in the ever-changing realm of digital marketing, attracting—and retaining—these sorts of tech-savvy, agile workers is essential.
So, what keeps Millennial workers happy? As Mary Meeker put it in her annual Internet trends report, the key is to understand this fact: people have changed.
Millennial workers are more likely to be immigrants, urban dwellers, and unmarried compared with older workers. Like all employees they want good pay and benefits, but they also deeply value rewarding projects, flexible hours, and ample development opportunities.
Ultimately, Millennials want their workplace to feel meaningful; they want it to be more than a job. For employers, creating that sort of environment can be a challenge but, if successful, the payoff in happy, high-quality workers can be huge.
Keep up with the trends in marketing to Millennials. Contact MDG today at 561-338-7797 or visit www.mdgsolutions.com.
MDG, a full-service advertising agency with offices in Boca Raton and New York, NY, is one of Florida's top branding firms. MDG's capabilities include print advertising, direct mail marketing, branding, logo design, creative, digital marketing, media buying and planning, radio and TV advertising, Web design and development, online video advertising, email marketing, content marketing, social media marketing, and SEO. To learn about the latest trends in advertising and branding, contact MDG today at 561-338-7797 or visit www.mdgsolutions.com.