How Mobile and the Internet of Things Connect to Brand Engagement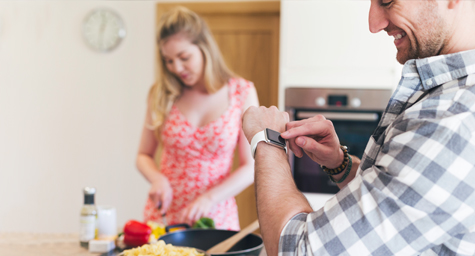 Marketers are well aware of the value of connecting mobile and digital, and now it appears that this combination also connects to brand engagement. According to a new study from Forrester Research called "The Internet of Things Redefines Brand Engagement," brands must understand how the powerful connection of mobile and the Internet of Things (IoT) will drive brand engagement. MediaPost.com shared more from the study to show how these new connections are the way to keep consumers engaging with brands.
According to the study, only 14% of US consumers monitor or control home utilities or appliances with a smartphone or tablet, which are the main control devices for smart or connected objects. In contrast, one-third of US online adults plan to use some type of IoT at home, in the car, or as a wearable this year. The two most commonly used devices will be smartwatches and wearable devices.
The study also revealed that the Internet of Things brings new opportunities and capabilities for brand marketers. These include:
Listening to customers to analyze real behaviors.
Building new business models and offerings.
Creating intimate and continual interactions with consumers.
Differentiating customer experiences.
So how can brands leverage the new opportunities and capabilities presented by the Internet of Things? The study offered the following examples for making the most of these connections:
Retail brands should start experimenting with new digital technologies, such as digital mirrors, virtual reality, RFID tags, and beacons. By embedding their packaging with high-tech features like QR codes, NFC tags, augmented reality, and image recognition software, brands can engage with consumers at the point of sale and beyond.
Automotive brands should offer smartphone-enabled auto app accessories that will allow US online consumers to retrofit older cars with connected-car features. This will give brands more access to consumers via their vehicles.
Home insurance companies need to start promoting smart-home discounts.
Health, fitness, and sports brands should leverage increased consumer interest in wearables by developing engagement strategies for acquiring more personal data and driving consumer behaviors toward wellness initiatives.
This mobile-IoT connection will give brands much greater access to consumers and encourage ongoing engagement that can lead to lasting loyalty.
Uncover forecasts for the future of digital marketing. Contact MDG.
MDG, a full-service advertising agency with offices in Boca Raton and New York, NY, is one of Florida's top branding firms. MDG's capabilities include print advertising, direct mail marketing, branding, logo design, creative, media buying and planning, radio and TV advertising, outdoor, newspaper, digital marketing, website design and development, online video advertising, infographic development, email marketing, video marketing, mobile marketing, content marketing, social media marketing, paid search marketing, and SEO. To learn about the latest trends in advertising and branding, contact MDG.