How Multi-Screen Viewing is Defining the New View of Digital Media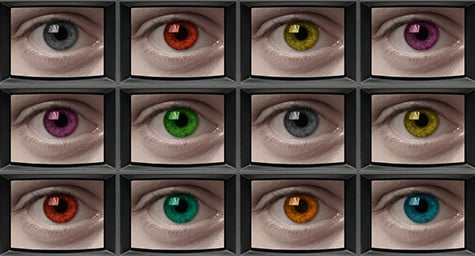 The recent emergence of second-screen viewing has made it one of the first priorities for marketers and media buying experts. But today, two screens are just the beginning as more and more audiences view multiple content sources at once. This has led to a new focus on the multi-screen viewing experience. This growing trend was examined in the Nielsen Global Digital Landscape Report. It featured many key findings that emphasized why marketers and brands must create their video content with multi-screen viewing in mind.
Mixing Live TV with Social Media Channels Viewer Engagement
According to the study, 65% of global respondents still prefer watching TV programming live at its scheduled time. While people used to gather around office water coolers or call their friends the next day to discuss the latest episodes, the popularity of talking about TV shows on social media is quickly replacing those physical interactions. This social media discussion is encouraging viewers to watch the shows live so they avoid real-time spoilers and are able to engage in these online conversations. Research revealed:
53% of global viewers like to keep up with TV shows so they're able to take part in the conversation on social media.
49% of North American viewers enjoy watching live video programming more if it includes a social media tie-in.
47% of North American viewers engage with social media while watching video programming.
More than 60% of viewers in Asia-Pacific and Africa/Middle East enjoy keeping up with their favorite shows so they can join in the social media conversation.
Multiple Digital Sources Provide Multi-Screen Viewing Experiences
The mix of video programming and social media is only one option for multi-screen viewing. Today, many viewers are accessing online content about these shows, browsing the Internet, or even playing mobile games while watching video programming. This has expanded single-screen viewing to second and third screens for a multi-screen viewing experience, as shown in the survey:
58% of global viewers browse the Internet while watching their favorite shows.
More than 60% of viewers in North America, Latin America, Asia-Pacific, and Africa/Middle East browse the Web while viewing video programming.
"The second, third and sometimes fourth screen is becoming a fundamental extension of the viewing experience," said Megan Clarken, executive vice president, Nielsen Global Watch Product Leadership. "While multiple screens give viewers more options, they also give content providers and advertisers more opportunities and ways to reach and engage with viewers. Well-designed experiences can not only make the viewing experience more enjoyable, but they maximize the time users spend interacting with brands, too."
Leverage the latest opportunities in media buying. Contact MDG.
MDG, a full-service advertising agency with offices in Boca Raton and New York, NY, is one of Florida's top branding firms. MDG's core capabilities include print advertising, direct mail marketing, branding, logo design, creative, digital marketing, media buying and planning, radio and TV advertising, website design and development, online video advertising, email marketing, content marketing, social media marketing, and SEO. To learn about the latest trends in advertising and branding, contact MDG.