Oakley's "Bubba Hover" YouTube Video Goes Viral [Video]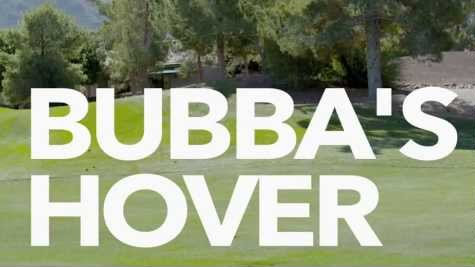 Awe over the state-of-the-art Hovercraft golf cart driven by golf star Bubba Watson in Oakley's "Bubba Hover" YouTube video has led to millions of views and turned the online video into a viral smash hit. FastCompany.com spoke to the creators of the cool vehicle to get the details on how their vision came to life.
While numerous golf courses have inquired about getting the high-flying vehicle for their courses, it's highly unlikely that golfers will be gliding through their games any time soon. Still, the hovercraft is scheduled to make a promotional appearance this week at the 2013 Masters Tournament.
The concept for the vehicle was inspired by Oakley's goal to make a major impact while hyping its promotional partnership with Watson. Oakley executives understood the power of viral videos and desperately wanted to leverage that instant online popularity. Their only obstacle was their realization that it's extremely difficult for big brands to produce videos that go truly viral. Most viral videos are obscure finds created by smaller companies that just happen to strike a chord with online viewers. The reasoning is that smaller companies are usually able to take greater risks since they have less to lose than larger brands that have to answer to corporate higher-ups and stockholders.
Despite the difficulty, Oakley's eagerness to create a viral video led them to contact Thinkmodo, the agency behind numerous viral sensations. Their discussions led to the discovery that Watson was a rare-car collector who had just purchased the famed General Lee from The Dukes of Hazzard movie. That was the spark that led to their creation of a hovercraft-golf cart hybrid that could glide above the course and swiftly navigate water hazards.
To construct the customized hybrid, the Thinkmodo team went directly to Neoteric Hovercraft, the company that usually builds hovercrafts for police and military rescue operations. The usual three-month building period had to be accelerated to only three weeks to comply with Oakley's promotional schedule. The vehicle was then carefully covered to keep it a secret and quietly transported to the Phoenix golf course where the online video was shot.
The finished hovercraft was virtually free of branding except for two Oakley logos on the back. The thinking behind such subtlety was that the company wanted people to discover the brand for themselves rather than be bombarded with a decal-covered spectacle. That subtle approach actually caused a major internal clash.
"Once people got hold of this, they wanted to make it look like a TV commercial," said Nathan Strange, Oakley's director of global marketing for golf.  "I said, 'Look, if you really want this to go viral, less is more. We can have the branding, and we're going to get credit for it if it truly goes viral. But if you make it look like an Oakley commercial, no one's going to share it.'"
That sly approach has appeared to pay off. There have been millions of views of their "Bubba Hover" video, along with lots of coverage on TV networks worldwide for a total of 80 million media impressions so far. In addition, sales have soared on Oakley's Watson-endorsed sports clothing from their spring golf apparel line shown in the "Bubba's Hover" video. In fact, sales on Oakley.com jumped 40 percent in the few days following the video's release.
"The return on our investment has been astronomical," boasted Mr. Strange. "I'm not going to give you the exact numbers, but it definitely didn't cost us millions of dollars to produce this whole video, which is really where the value comes in because we're getting millions and millions of media impressions for a fraction of a cost of what a traditional advertising campaign would cost."
To integrate online video ads into your digital marketing strategy, contact MDG.
MDG, a full-service advertising agency with offices in Boca Raton and New York, NY, is one of Florida's top video marketing agencies. Our 360° approach uses just the right mix of traditional and digital marketing to reach your advertising goals. While some industries may fare better in print and others online, we strive to create a balanced approach, where traditional and digital marketing efforts support each other and your message is tailored to the medium. To learn more about the latest trends in marketing and advertising, contact MDG.
Read more at FastCoCreate.com.