How One of the Most Moving Moments in Advertising Came to Life and Real-Life as a Skype Spot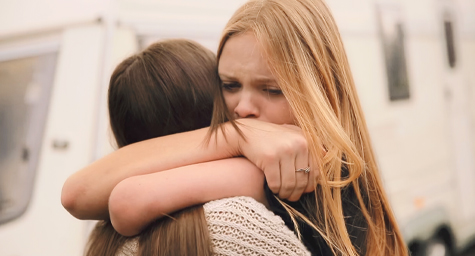 One of the most lauded and loved ads at this year's Cannes Lions was a reality-based spot that focuses on a special friendship formed through a Skype stream. The spot tells the story of two teenage girls, Sarah and Paige, who were raised on different sides of the globe and had never met in person. Yet the girls found a common bond over both being born with only one arm and spent years talking to each other on Skype. Once their story was submitted via text to Skype, it immediately caught everyone's attention and became the center of an ad that captured their emotional meeting. To see how this real-life story of round-the-world friendship came to be an award-winning ad, Adweek.com told the touching tale of this beautiful bond of friendship.
The three-minute Skype ad called "Stay Together" is the creation of PJ Pereira of advertising agency Pereira & O'Dell and won four Cyber Lions and one Branded Content Lion.
While the tale is touching, the spot almost never came to be. That's because the agency had already filmed three other emotional ads about families and friends connected via video chats on Skype and Pereira thought the campaign was complete.
But to add a social media element to the campaign, they thought they should also encourage consumers to submit their own stories. And suddenly, they received the most heart-warming, tear-jerking, and compelling story via a simple text submission. It completely overshadowed the other three, as well as the stories in other ads this year. This was the story of Sarah and Paige.
The agency immediately fell in love with the story and knew it was one they had to tell. They learned that one girl lived in the New Zealand and the other was in the American Midwest, but their mothers had met online years ago right after their children were born. But the girls' friendship didn't develop until they were old enough to chat on Skype. Then their common connection led to a bond that few would ever understand.
Once the agency collected their facts, they filmed footage of each of the girls in their home countries. After meeting Sarah and Paige, the agency knew that their job just wasn't done yet. They knew that the girls deserved to meet in person, so they arranged for a first-time meeting between these best friends and filmed that meaningful moment.
That moment became the star of the spot, with the girls running toward each other and hugging for the first time. The girls' eyes were filled with tears, but that was just the beginning of the tears of joy that the ad would bring to everyone who viewed it.
"The moment that they meet, that wasn't planned, we didn't know what was going to happen," explained PJ Pereira. "That single moment told that entire story in four seconds in a way that no actor could have ever told it."
Discover the secrets of award-winning advertising. Contact MDG today at 561-338-7797 or visit www.mdgsolutions.com.
MDG, a full-service advertising agency with offices in Boca Raton and New York, NY, is one of Florida's top branding firms. MDG's capabilities include print advertising, direct mail marketing, branding, logo design, creative, digital marketing, media buying and planning, radio and TV advertising, Web design and development, online video advertising, infographic development, email marketing, mobile marketing, content marketing, social media marketing, and SEO. To learn about the latest trends in advertising and branding, contact MDG today at 561-338-7797 or visit www.mdgsolutions.com.