How Serious Companies Created Engaging Social Media Strategies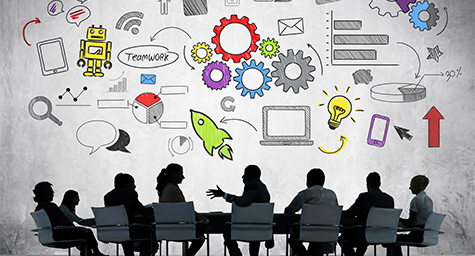 No matter how mundane or plain a company, social media can open a business to endless exciting opportunities to connect with new consumers and share their personal stories. To see how social media marketing can breathe life into any business, SearchEngineWatch.com showed how leveraging social media channels can help boost a brand's image and put a business in good company.
Tax preparation is typically not an engaging subject, but H&R Block has managed to get a remarkable return on their social media efforts by creatively connecting daily events with their tax message and brand experience. Consider that when the company featured a Facebook post on Valentine's Day filled with sensible guidance on gift selection, their prudent post received nearly 5,000 total engagements and more than 3,000 likes. H&R Block currently claims almost 380,000 Facebook fans and averages about 500 engagements per post. By consistently providing posts that are relevant to both customers and the company, the tax advisor is proving that social media need not be taxing for any type of business.
Another social media standout is Maersk Line. Despite their serious image as a container shipping company, they've managed to maintain a savvy social media presence on ten different social platforms, including Facebook, Twitter, Instagram, Pinterest, LinkedIn, Flickr, and more. They also have a website solely for social media. In addition to posting at least once a day, they package their posts into visual content containing impressive photography. Their efforts deliver consistently high engagement numbers, which is largely due to their high levels of social media activity on all of their platforms.
Finally, how can a commercial real estate company make a real impact in social media? By using Instagram to show the big picture on the broad expanse of their business. CBRE may be a B2B company, but their decision to leverage Instagram is far from business as usual. But it's clearly been a solid move because the photo-sharing platform is helping the brand transcend the traditional B2B focus and connect with consumers by showing what real estate means in their lives. By accompanying their Instagram photos with inspiring, informative captions, the brand is seeing high engagement and building an impressive following.
With the proper social media marketing, any business of any kind can reach any market they want and ultimately make a better impression on their industry and the audience.
Discover new strategies for successful social media marketing. Contact MDG.
MDG is a full-service advertising agency and one of Florida's top branding firms. With offices in Boca Raton and New York City, MDG's core capabilities include branding, logo design, print advertising, digital marketing, mobile advertising, email marketing, media planning and buying, TV and radio, outdoor advertising, newspaper, video marketing, Web design and development, content marketing, social media marketing, and SEO. To discover the latest trends in advertising and branding, contact MDG.