How the Best-Ever Craigslist Ad Was Created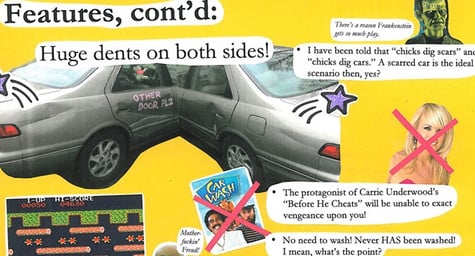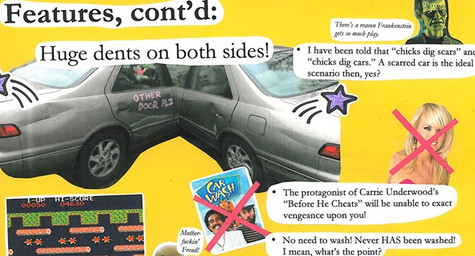 An incredibly creative, collage-type ad posted on Craiglist has captured the attention of the advertising industry. Intended to help the ad's creator sell his 1999 Toyota Camry, the ad has instead catapulted to viral online fame for its hilarity and wit. Tim Nudd at Adweek.com took the time to talk to the ad's creator, who happens to be an advertising copywriter, to get an update on how the ad evolved and whether it actually sold the car.


Nate Walsh wrote the eye-catching ad in about an hour, but spent an additional 20 hours actually piecing and pasting it together by hand since Photoshop didn't provide the homemade look he was after. The ad is brimming with amusing graphics and silly captions, but his favorite part is just the idea of a person being crazy enough to spend hours with a glue stick and pair of scissors creating this comical collage.
Walsh said he was selling the car due to an upcoming move from St. Louis to San Francisco. Since he's leaving his current job and plans to take on freelance copywriting until an agency opportunity opens up, he's hopeful that this ad may just be his door into an ad agency position in his new city.
He hasn't yet sold the car but has received numerous offers from, as he calls them, "humorless" people who he doesn't deem worthy of his beloved vehicle. He's apparently waiting to find just the right person who can appreciate his car for its quirkiness and eccentricity.
Walsh's wait may have to end sooner than later because the ad was recently flagged on Craigslist for removal. Despite his disappointment, he's more focused on enjoying the positive feedback he's received and watching the ad's path across Pinterest, Reddit, Jezebel, and other popular sharing sites. For now, he's just happy that people are getting such pleasure from the ad and having the chance to add a laugh to their day.
To leverage the power of a creative ad, contact MDG.
MDG, a full-service advertising agency with offices in Boca Raton and New York, NY, is one of Florida's top creative ad agencies. Our 360° approach uses just the right mix of traditional and digital marketing to reach your advertising goals. MDG specializes in developing integrated marketing strategies, exceptional creative executions, and solid branding and media-buying strategies that give clients a competitive advantage. Our core capabilities include award-winning print advertising, direct mail, branding, logo design, creative, media planning and buying, radio and TV advertising, online advertising, Web design and development, email marketing, social media marketing, and SEO. To stay on top of the latest trends in marketing and advertising, contact MDG.