How to Become a Data-Driven Success Story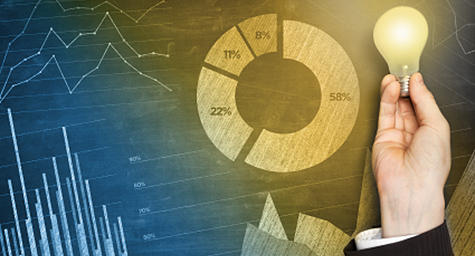 Today, the phrase "data driven" has become a major business buzzword with companies possessing a data-driven nature reporting significantly higher profits than ones that do not. While its precise definition is open to interpretation, it's comprised of three basic principles. The first is making wiser decisions throughout an organization. The second is insisting on only the highest-quality data, and the third is accepting that variation is inevitable. Harvard Business Review offered a closer look into this data-driven dynamic to explain the attributes and attitudes of this organizational outlook.
Certain traits are evident in data-driven companies and individuals. In regard to decision-making, these include a preference for delegating decisions to the lowest possible level, believing that decision-making is just the first step and being open to learning from mistakes. In terms of data quality, it's realizing the importance of investing in high-quality data, using data to get a better grasp of the world and integrating the ability to understand data with personal intuition. In relation to variation, the data driven know that decision criteria can vary with conditions, strive to collect as much diverse data as possible and are able to handle uncertainty well.
While all of these traits are found in the data driven, some stand out as defining factors. The idea of relegating decisions to the lowest level allows executives to focus on the most important matters while empowering lower-level employees to take great care with the decisions they're assigned. It creates a strong sense of organizational trust and turns the workplace into a more fun, collaborative environment.
Another key factor is the acceptance of variation. No matter how strong the strategy, there will always be ups and downs, but eventually everything balances out.
The final data-driven dictum is the demand for the highest-quality data. After all, decisions are only as good as the data they're based on, so proponents happily invest in quality data they can trust. Having high-quality data ensures they'll always be knowledgeable and prepared while it reduces uncertainty and helps justify variation.
Not surprisingly, the data-driven continually review and refine their decisions. This allows them to learn what works along the way and change their choices based on the data collected.
Becoming more data-driven starts by relegating decision-making down the organization. It may be difficult and counterintuitive at first, especially for managers who are used to maintaining control, but it's well worth the effort. Then, it's wise to invest in quality data because it is vital to have the utmost trust in your data sources since quality data leads to confident decisions. Finally, it's important to engage the management team in this marketing mindset and put the principles to work for the entire organization
Discover the difference data-driven strategies can make when marketing your brand. Contact MDG.
MDG is a full-service advertising agency and one of Florida's top creative ad agencies. With offices in Boca Raton, FL and New York, NY, MDG's core capabilities include branding, logo design, digital marketing, print advertising, mobile marketing, email marketing, media planning and buying, TV and radio, outdoor, newspaper, video marketing, Web design and development, content marketing, social media marketing, and SEO. To stay on top of the latest trends in marketing and advertising, contact MDG. To learn more about the power of data, read, "How Big Data Spawned the Geico Gecko" and see how the data-driven company has utilized it to support measurement and targeting.