How To Choose When to Use Instagram or Vine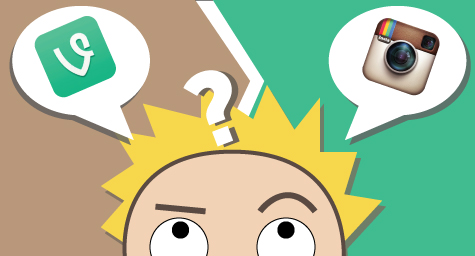 Video has become the hottest way for brands to promote, present, and persuade. While there's no doubt about the popularity of video, many marketers wonder which platform is best for their particular needs. Facebook's Instagram and Twitter's Vine are the two video leaders and while both of them offer outstanding brand benefits, each of them has its specific strengths. To help marketers pick the right platform at the right time, VentureBeat.com offered the following view on video.
Instagram Has Time on Its Side – As the latest video option, Instagram offers a whole 15 seconds of motivational marketing time, which is more than twice the time of Vine videos. This longer length makes the platform ideal for promotional campaigns since there's more time to tout the features of a product. The extra time also works well for TV commercial-type videos since the added time better simulates the TV experience.
Instagram Features Advanced Features – Instagram also offers advanced video editing tools that are useful for creating a video series. These state-of-the-art filters and features help keep viewers engaged in the videos so brands can visually convey their true personalities.
Vine is The Answer for Live Interaction – Vine videos are simple to share in real-time because their GIF style lets them be instantly integrated with Twitter. As a result, these video vehicles are perfect for responding to fan feedback in a fresh, fun way.
Vine is What's Best for What's New – The six-second length of Vine videos allows just enough time for brands to tease a new product, tout an upcoming event, or show a how-to video that can pique viewer interest and lead them to learn more.
Both Instagram and Vine allow brands to leverage the power of video for promotional purposes, yet one platform may be more effective than the other in certain situations. Understanding the strengths of these particular platforms can make it much easier to choose the best for the brand.
Tap into the right online video strategy. Contact MDG.
MDG is a full-service advertising agency and one of Florida's top creative ad agencies. With offices in Boca Raton, FL and New York, NY, MDG's core capabilities include branding, logo design, digital marketing, print advertising, mobile marketing, email marketing, media planning and buying, TV and radio, outdoor, newspaper, video marketing, Web design and development, content marketing, social media marketing, and SEO. To stay on top of the latest trends in marketing and advertising, contact MDG. To learn more about how online video advertising is on the rise, watch MDG's video infographic, "Advertisers, You Need YouTube".