How to Get the B2B Benefits of Native Advertising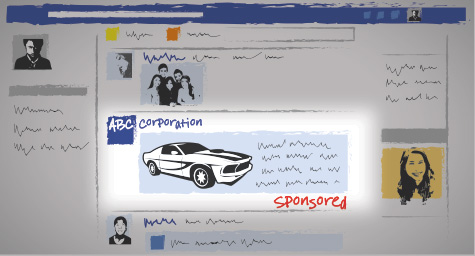 Native advertising has been embraced by consumers for its more valuable content and less intrusive nature, and these same qualities are also making it effective with B2B audiences. In fact, native ads are viewed 53% more than traditional ads and result in an 18% higher purchase intent than banner ads, according to a recent study of more than 4,700 B2C brands by IPG Media Lab and Sharethrough. This favorable response is leading more B2B marketers to use native advertising like Promoted Tweets and Facebook Sponsored Stories to generate quality leads and impressions from the social Web. eMarketer expects that marketers will almost triple their native advertising spending over the next five years. To help B2B marketers boost the effect and effectiveness of their native ad campaigns, SoftwareAdvice.com offered the following seven strategies.
1. Discover the Platform Possibilities – It's important to understand your native advertising options so you can select the best platforms for your campaigns. LinkedIn has lately become one of the most popular platforms with B2B marketers and has even surpassed Twitter as their preferred social channel. The appeal of LinkedIn's new native ad platform is that it lets brands target and share content with a highly relevant audience, who can then share it among their social networks. Plus, LinkedIn's huge professional audience makes it ideal for brands new to native advertising. Still, it's just one of many platforms in the native advertising landscape.
2. Follow Your B2B Audience – Today, social media has become the most popular content marketing strategy among B2B businesses. They're simply following their target audiences who are spending much more time on these social media channels, especially the industry-centric social sites that are creating their own engaging and informative content related to the interests of audiences. Since their content and context are already relevant to readers, it's easy to integrate native advertising campaigns and create positive associations.
3. Learn the Language of the Platform – Native advertising is meant to seamlessly blend into the user experience, so make sure that your campaigns are consistent with the type and tone of content on the channel. This shows audiences that you understand their community dynamics and business needs, which enhances your brand's appeal. That's why it's vital to customize the style and scope of your native ad content for each platform.
4. Establish Trust by Staying Truthful – Trust is the key to converting consumers into customers with native advertising. Audiences realize that native ads are still a form of marketing, so be clear that they are sponsored by your brand or else readers may feel misled. Also, be sure to fill these ads with valuable content that is enjoyable to audiences and select platforms that are trusted by your industry. These steps will create trust between the reader and the brand that will maximize the effect of the native ad message. Interestingly, a 2012 MediaBrix survey showed that only 45% of people found Promoted Tweets misleading compared to the 86% who doubted sponsored video ads placed in content. This was attributed to the fact that Twitter users were comfortable seeing promotional tweets and didn't deem their format as disruptive. The takeaway is to choose platforms where readers accept native advertising and that suit the content being promoted.
5. Make Messages On-Target but Not Off-Putting – Native advertising should be unobtrusive and enjoyable, so don't be too bold or brash with your messaging. Ideally, the content should be aligned with your brand without being overly promotional or pushy. Obnoxious ads will be ignored by readers, but valuable content will be embraced by them.
6. Make the Most of Mobile – Mobile is made for native advertising because the smaller screens are more compatible with value-packed content than paid banner advertising. In addition, research shows that mobile advertising revenues experienced triple-digit growth in 2012, while mobile use is expected to exceed desktop usage by next year. Pure mobile native advertising may be relatively new, but some networks are already being warmly embraced by B2B companies and consumers.
7. Know That Content Must be Customized – It's important to realize that native ads can't scale like banner ads because each piece of content will be viewed and consumed differently based on the specific channel.  As a result, native ads can take more effort and expense to develop since each ad requires its own approach. Despite this challenge, many companies have created successful and affordable native advertising campaigns by starting small and focusing on the niche industry channels that attract their target audiences. They've used their native advertising to supplement their larger social media and content marketing strategies and then expanded their campaigns over time. Even though the lack of industry metrics standards may spark initial hesitation, just accept that newer marketing methods take time to prove their value.
While many view native advertising as the future of digital marketing, it's already enjoying a powerful present and presence between both B2C and B2B markets. It's never too soon to start your own native ad campaign and use your content to convert more B2B buyers.
Leverage the benefits of native advertising to boost your B2B business. Contact MDG today at 561-338-7797, or visit www.mdgsolutions.com.
MDG is a full-service advertising agency and one of Florida's top creative ad agencies. With offices in Boca Raton, FL and New York, NY, MDG's core capabilities include branding, logo design, digital marketing, print advertising, email marketing, media planning and buying, TV and radio, outdoor, newspaper, video marketing, Web design and development, content marketing, mobile marketing, social media marketing, and SEO. To stay on top of the latest trends in marketing and advertising, contact MDG today at 561-338-7797. To discover how to use native advertising to redefine your mobile marketing, see "4 Native Advertising Tactics for Maximum Mobile Impact."