How to Package an Emotional Connection into Packaging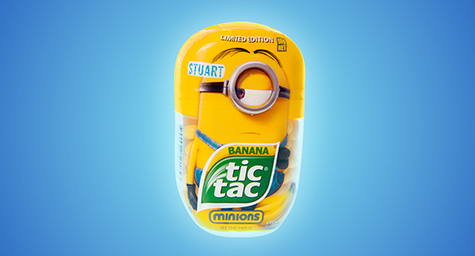 A product's packaging used to only wrap its contents, but now it can wrap up promotion and emotion all at once. Thanks to high-tech advances in printing and graphics, package design can convey a product's personality and connect with consumers in an emotional way. This elevates the package from a simple form of function into a channel for engagement and emotional connection. MediaPost.com displayed the ways that a product's packaging can unwrap a personal relationship.
Licensing is in the Bag
Brands have a long history of partnering with new films, fashion labels, and famous faces to develop special editions of products. When the product and its partners complement one another, it can evolve into a compelling brand story.
One prime example is Tic Tac's association with the "Minions" movie. The mints are shaped like the movie's popular characters, so they leveraged their likeness and likeability by printing the characters' faces directly on the mints. This became the hottest candy of the summer and attracted countless fans and followers on social media.
Packing in Personalization
Personalizing a package increases its appeal to customers because it makes them feel special. This creates an emotional bond between the brand and the consumer. It can also make an ordinary product seem extraordinarily special and turn it into a collectible or a very unique gift.
Snickers has a sweet take on personalization that plays off its popular ad campaign about hunger affecting one's personality. They've printed candy wrappers with the symptoms of hunger, such as grouchy, sleepy, and irritable. These wrappers capture feelings that resonate with consumers, which creates a personal bond with the buyer.
Thinking Outside the Box with Technology
Thanks to the growing acceptance of Apple Pay and the use of digital wallets, a new era of NFC technology is letting consumers pay and communicate via mobile. By using this technology for packaging, it expands spending into social sharing and introduces new media options.
While NFC technology has yet to go mainstream, the development of better printing techniques will let practically any package become a communications channel that offers consumers value.
Packaging is no longer just a container for a product, but now can contain a product's persona and create a personal bond.
Unwrap the latest in creative package design tactics. Contact MDG.
MDG, a full-service advertising agency with offices in Boca Raton and New York, NY, is one of Florida's top branding firms. MDG's capabilities include print advertising, direct mail marketing, branding, logo design, package design, creative, media buying and planning, radio and TV advertising, outdoor, newspaper, digital marketing, website design and development, online video advertising, infographic development, email marketing, video marketing, mobile marketing, content marketing, social media marketing, paid search marketing, and SEO. To learn about the latest trends in advertising and branding, contact MDG.