How to Reach a Wealth of Luxury Travelers Today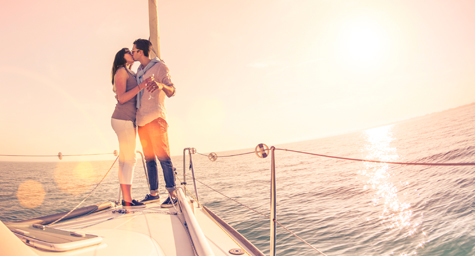 Luxury travel is more popular than ever, but the demand has brought in a pack of competitors seeking a share of the wealth. As a result, luxury travel marketers are struggling to distinguish their offerings and reach the upscale traveler, especially since this market spends the least amount of time planning trips. But with a savvy shift in their travel marketing strategies, marketers can connect with affluent consumers in a meaningful and memorable way. Inc.com shared proven tips to retain current customers and attract an abundance of new clients.
The Value of a Connection
According to luxury travel experts, crafting a more concise marketing message that prompts a positive emotional response helps to distinguish a marketer's services and provoke some kind of action, from an initial conversation to a direct conversion. By creating short-form content that's relevant and resonates, marketers are able to create a real connection with consumers.
Along with building a bond with consumers, luxury travel marketers are striving to form connections with the people who influence travel decisions. These people range from travel agents to travel bloggers to the staff at luxury properties. By forming connections with these influential people, marketers are able to build both their reputation and a record for reliability, which leads to confident referrals.
An Abundance of Collaboration
Another tactic that works to woo affluent travelers is working together. Collaborating with other luxury vendors allows marketers to add value and convenience to their premium services, while being recognized and recommended as a trusted source by the vendor. This also serves to introduce a travel service to new audiences, as well as reinforce its image with existing customers.
The Last Word on First-Class Services
Lastly, customer reviews leverage the power of personal recommendation. These matter more than ever to luxury travelers, who trust real, honest comments over branded content and ad campaigns. But since there's often confusion between real reviews and sponsored content, luxury travelers place great value in confirmed purchaser review sites that feature verified customer commentary. Luxury travel marketers need to form relationships with these sites by listing their profiles in order to receive these real reviews and build their reputation with luxury travelers.
The luxury travel market may be more cluttered with competitors than ever, but these three timely tactics can help marketers reach more of the luxury travelers they treasure.
Connect your travel brand with affluent consumers. Contact MDG.
MDG, a full-service advertising agency with offices in Boca Raton and New York, NY, is one of Florida's top hospitality marketing companies and branding firms. MDG's core capabilities include advertising, branding, logo design, creative, infographic development, digital marketing, creative media planning and buying, radio and TV advertising, website design and development, email marketing, mobile marketing, content marketing, social media marketing, and SEO. To stay on top of the latest trends in travel marketing and advertising, contact MDG.