How to Use Location Data Effectively: 7 Tips for Marketers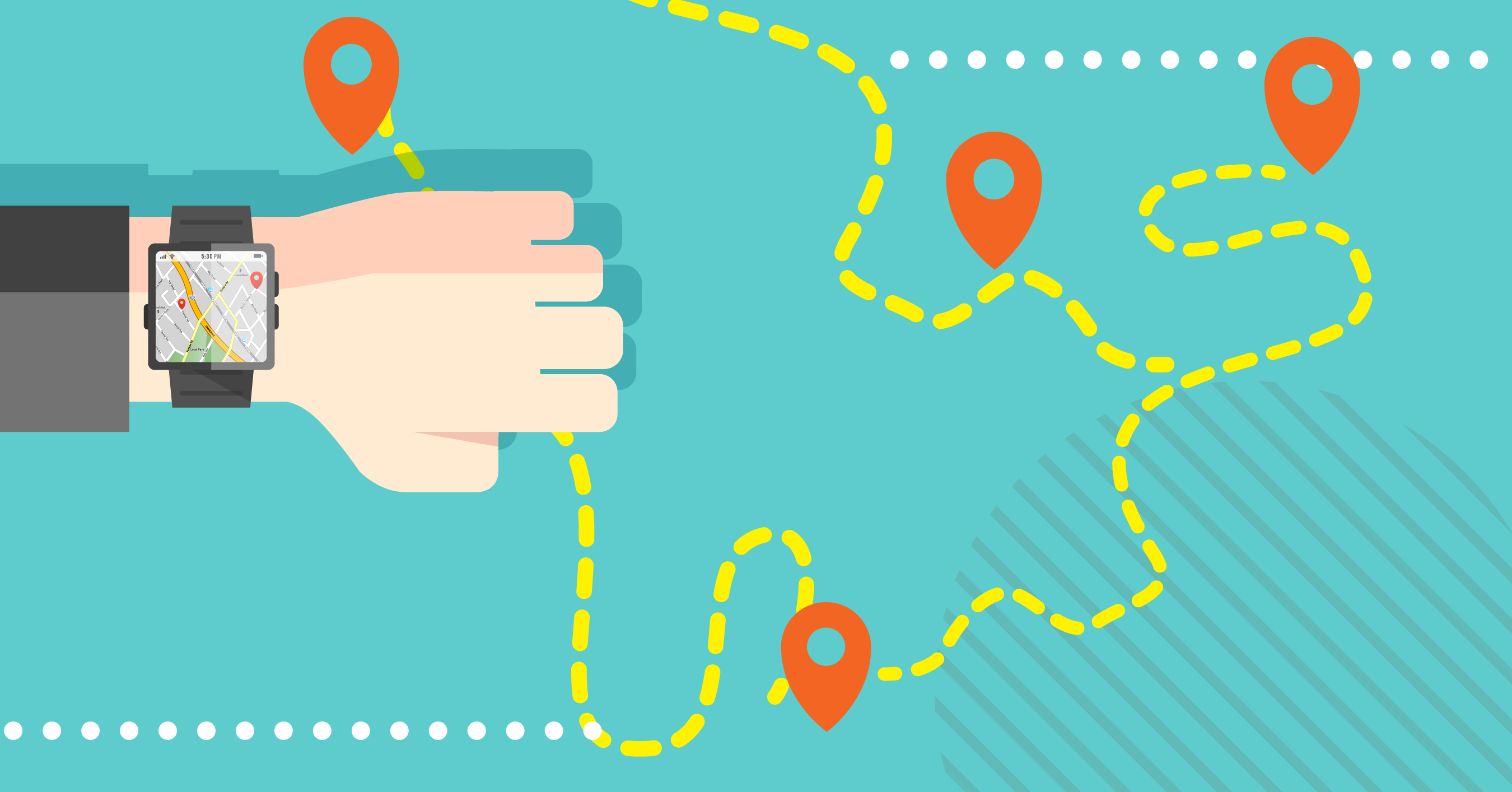 Not that long ago, the idea of easily messaging a specific consumer based on his or her exact location would have seemed like science fiction to marketers.
Today it's very much a reality. Thanks to the rapid adoption of GPS-enabled smartphones, brands can now geotarget cost effectively and at scale.
What's the impact of this evolution? Are brands using location data in their campaigns and products? How is this data being collected? Which tactics are effective in improving the quality of location-based marketing?
Recently, eMarketer released an in-depth report examining these questions. The researchers looked at how marketers are currently using location data, how consumers feel about their location data being collected, and what experts think brands can do to create effective location-based campaigns.
The first insight that stands out from the research is that many advertisers have already embraced location-based targeting and many more are poised to do so in the coming years.
According to BIA/Kelsey data, as cited by eMarketer, in 2018 brands will spend $22.1 billion on location-targeted mobile ads that are sold by traditional media organizations; by 2022 this is expected to jump to $38.7 billion.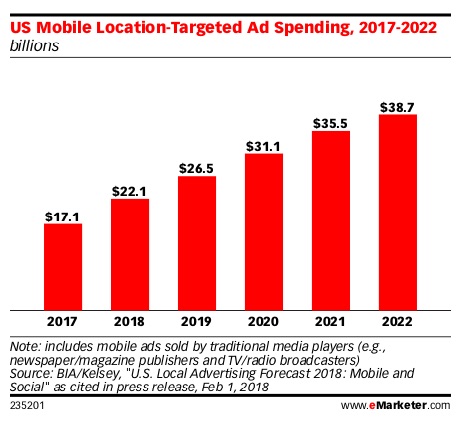 Where are brands getting location data? According to a survey digital marketers conducted by Forrester Consulting, as cited by eMarketer, the most common sources are GPS background data (70% get location data this way), GPS foreground data (60%), Wi-Fi (58%), cellular towers (56%), RFID (44%), and beacons (40%).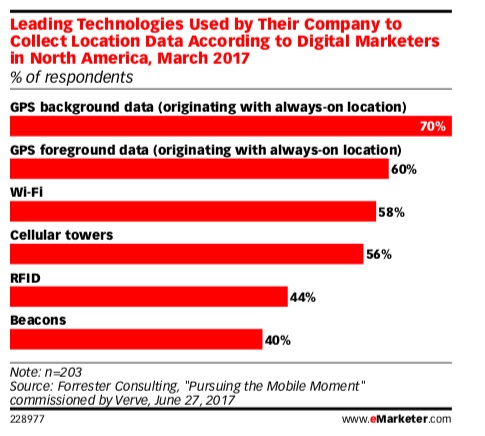 When used well, location data can improve not only marketing campaigns, but also the UX of products.
According to a survey conducted by Localytics, as cited by eMarketer, some 42% of consumers say location-based personalization within a mobile app makes them more likely to use that app.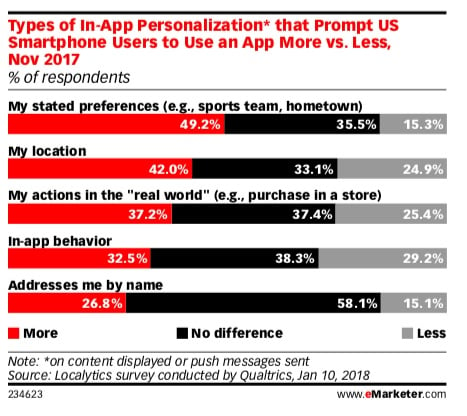 Although consumers like some of the ways location data is used, many are wary about sharing this sort of information.
According to data from a survey conducted by Bank of America, as cited by eMarketer, just 37% of consumers age 13+ (and just 44% of Millennials) feel comfortable with their mobile device location being tracked.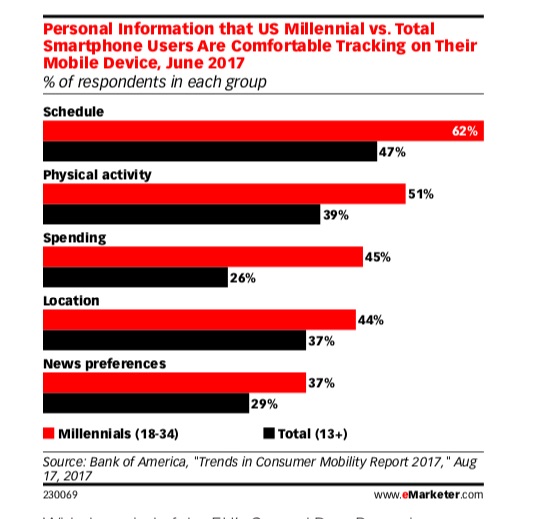 While brands see the potential of location-based targeting, many are struggling with executing campaigns effectively.
According to a survey by Forrester Consulting, as cited by eMarketer, marketers say they face a number of challenges when trying to use location data as part of mobile ad campaigns. These include inaccurate location data (33% cite this as an issue), not fully understanding how to use location data to deliver relevant messaging (33%), and a lack of clarity on third-party vendors (30%).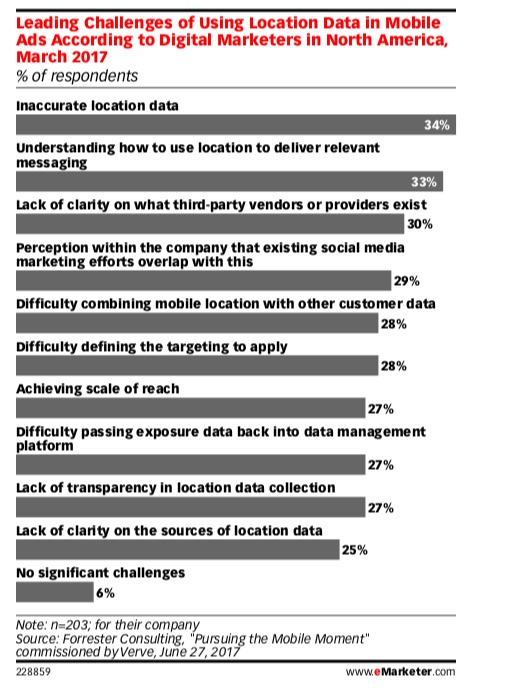 What can brands do to make campaigns that utilize location data successful? eMarketer interviewed a number of experts to find out. What emerged are seven key pieces of advice:
1. Ensure the quality of location data.
Often brands will turn to third-party sources for location data. This isn't inherently bad, but it does increase the possibility that data will be inaccurate. Given that, marketers should make sure their data is well sourced and correct before executing campaigns.
2. Utilize location data only when it serves a purpose.
Some campaigns can benefit immensely from location data while others are only marginally, or not at all, improved. Make every effort to only use location data when it is needed, especially given consumers' concerns about its collection.
3. Understand what purpose location data serves.
Why do you need location data for this campaign? Answering that question is essential. By understanding the purpose you'll be better able to know what data you need—for example how precise it must be—and how to structure/deliver messaging.
4. Create accurate geofenced areas.
Many platforms make it easy to create targeted campaigns based on a radius (within five miles of a marker, for example) or by drawing a circle around a location. While this is fast and simple, it isn't always the best approach. Taking the time to draw a precise polygon that accurately reflects your target area can have a big payoff over time.
5. Deliver location-based messaging at the right time.
Just because a consumer is at a certain location at a certain time doesn't mean that targeted messaging must be delivered immediately. Sometimes it makes more sense to reach out at a later time, such as the day after visiting a store.
6. Take into account consumers' movements.
While a single piece of location data reveals only where a consumer is/was, a collection of data points can show much more. Sophisticated use of location data can reveal things like the routes consumers use to commute. By taking into account movement, not just a moment in time, marketers can craft all sorts of inventive campaigns.
7. Don't underestimate the power of location data.
Often brands will think too small when utilizing location data. Yes, it's extremely useful in crafting triggered campaigns, but it also has a range of other valuable uses. For example, historic data—such as knowing that a consumer constantly visits certain shopping malls—can be used to create effective long-term segmented campaigns.
Ultimately, location data can benefit brands in many ways when used effectively.
If marketers take the time to check their location data quality, utilize location information correctly, structure good campaigns, and think beyond the obvious, they can reach valuable audiences, deliver more compelling messaging, and significantly increase the effectiveness of their efforts.
Learn how to harness the power of location data. Contact MDG today at 561-338-7797 or visit www.mdgsolutions.com.
MDG, a full-service advertising agency with offices in Boca Raton and New York, NY, is one of Florida's top branding firms. MDG's marketing capabilities include print advertising, direct mail marketing, branding, logo design, creative, media buying and planning, radio and TV advertising, outdoor, newspaper, digital marketing, website design and development, online video advertising, infographic design and development, email marketing, video marketing, mobile marketing, content marketing, social media marketing, paid search marketing, and SEO. To learn about the latest trends in advertising and branding, contact MDG today at 561-338-7797 or visit www.mdgsolutions.com.