How Travel Brands Can Bring Home Loyalty with User-Generated Content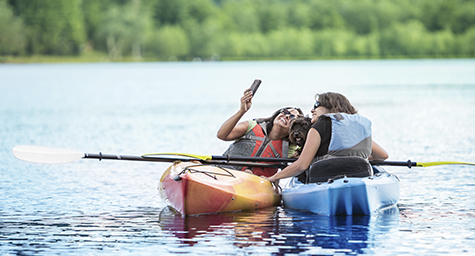 Social media has become a daily destination for millions of people around the world. As a result, a huge amount of content is generated by users. And a large amount of this content is related to travel experiences, from trip photos posted on Instagram to travel stories shared on Facebook. Today, this user-generated travel content is being used by all kinds of travel brands in their hospitality marketing to increase their brand awareness and create customer loyalty. Research shows that 83% of people look to social media for travel inspiration. And 92% of people worldwide trust word of mouth more than any type of advertising. To help travel brands make the most of travelers' social content, HotelMarketing.com shared proven social strategies to bring in a world of new fans.
Inspiring People is Key
When it comes to creating user-generated content marketing, this tactic is popular with travel brands because travel is such an inspiring pursuit that interests many people. To pique and speak to this interest in travel, travel brands need to entice exploration on every social media platform.
To inspire people to travel, brands can use user-generated content to display destinations from a traveler's perspective. In addition, travel brands should partner with hotels, restaurants, and other travel-related businesses to build up a collection of user-generated content that shows the many sides of a destination to speak to different interests.
Pack in a Virtual Visual Image
Many people are hesitant to travel or expand their travel horizons. Brands need to detect their doubt and then provide user-generated content that helps them envision themselves in a world of new places. When people can see themselves in a situation, it eliminates their fear of the unknown and entices them to experience something for themselves.
This can be easily accomplished on social media by sharing photos and videos about various travel locales, as well as posting personal stories about people who shared their hesitation but ended up having a wonderful trip.
Discover Your Dominant Fans
According to industry experts, one of the most effective ways for a brand to use user-generated content is to seek out the brand's biggest fans throughout social media. These fans are a brand's social advocates and serve as brand ambassadors who promote the brand's benefits. They can be also be used in advertising to make a brand more relevant and relatable to the target audience.
To find these fans, many brands hold social media contests that ask people to send in their travel photos, share their travel experiences, or spread the word about contests. The most active participants are clearly a brand's biggest fans.
Travel brands need to realize that the personal views and honest opinions of travelers really matter to consumers. In fact, 70% of consumers throughout the world say that online consumer reviews are one of the most trusted types of advertising.
In addition to identifying the social media fans who can help build buzz for the brand, these efforts will also deliver an abundance of user-generated content that can be used for hospitality marketing purposes.
With the popularity of social media, travel brands should expand their horizons and explore the power and potential of user-generated content marketing.
Discover what's happening in hospitality marketing. Contact MDG.
MDG, a full-service advertising agency with offices in Boca Raton and New York, NY, is one of Florida's top hospitality marketing companies and branding firms. MDG's core capabilities include advertising, branding, logo design, creative, infographic development, digital marketing, creative media planning and buying, radio and TV advertising, website design and development, email marketing, mobile marketing, content marketing, social media marketing, and SEO. To stay on top of the latest trends in travel marketing and advertising, contact MDG.