How Twitter Helped Fallon Get Leno's Job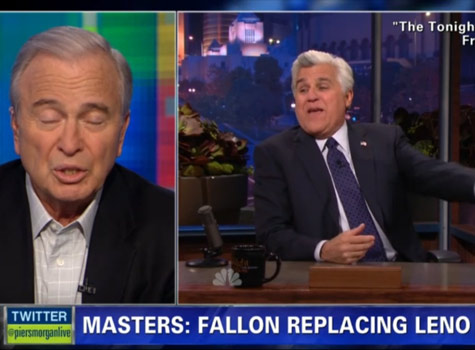 NBC's recent dismissal of Jay Leno as the host of top-rated "The Tonight Show" left people wondering about what really led to Leno's sudden sacking and rapid replacement by "Late Night" host Jimmy Fallon. CNN.com weighed in with a thoughtful opinion on the touchy TV upheaval.
"We are purposefully making this change when Jay is No. 1, just as Jay replaced Johnny Carson when he was No. 1," said NBC Universal CEO Steve Burke. "Jimmy Fallon is a unique talent and this is his time."
The main difference between Carson's and Leno's departures was that Carson's was by choice after a legendary 30-year reign and actually came as a surprise to NBC. This time, the surprise was on Leno who had been strongly unwilling to relinquish the hosting role and essentially forced the network to end his reign.
According to some in the industry, the choice of Fallon as replacement was a result of the young host's skillful use of social media, which is an area that holds no interest for Leno. Networks are increasingly realizing the power and persuasion of these online social media platforms at a time when traditional TV ratings have been on a steady decline due to the abundance of niche channel options.
Consider that Fallon's personal Twitter page has 8.33 million followers and that rival Conan O'Brien's is close behind with 8.09 million. Leno's official "Tonight Show" page claims only 525,000 followers while Letterman's "Late Show" page has just 234,000. Leno doesn't even have a personal Twitter page and has no desire to start one.
Fallon also has made numerous "viral videos" featuring popular celebrities and political figures. Many of these have become YouTube smash hits and received millions of views. These popular videos were even mentioned in NBC's formal announcement of Fallon's selection. His Emmy in the "Interactive Media Category" and naming as 2009's "Webby Person of the Year" probably also played a role in their choice.
Interestingly, TBS's recent press release about their extension of O'Brien's late-night show through November 2015 included just a brief mention of his conventional Nielsen ratings but boasted about his huge social media following. They praised his millions of Twitter followers and Facebook fans, along with his millions of YouTube monthly video views and his 2012 Emmy for "Outstanding Creative Achievement in Interactive Media Enhancement."
Apparently, the networks have started placing a premium on social media prowess that has left Leno's TV-based banter far behind. Whether Fallon can maintain Leno's ratings dominance remains to be seen, but social media is expected to take on a much greater role on the new "Tonight Show" stage.
To add Twitter to your social media marketing strategy, contact MDG.
MDG, with offices in Boca Raton and New York, NY, is a full-service advertising agency and one of Florida's top creative ad agencies. MDG specializes in developing integrated marketing solutions, exceptional creative executions, and solid branding and media-buying strategies that give clients a competitive advantage. Our core capabilities include print advertising, branding, logo design, creative, digital marketing, creative media planning and buying, radio and TV advertising, Web design and development, email marketing, social media marketing, and SEO. For the latest on Twitter and social media marketing trends, contact MDG.
Read more at CNN.com.