How Visual Content Contributes to Charities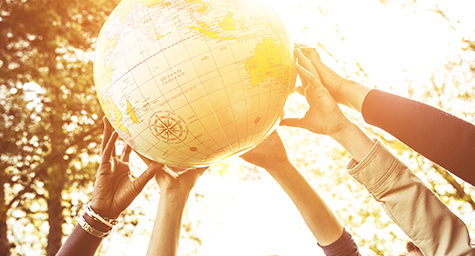 When it comes to content, the visual is valuable for charities. In fact, 97% of charities on the 2013 Philanthropy 400 list used visual content to draw donations. And when posted on social media, visuals become a source of support. Whether its images on Instagram or videos on Facebook, visual content lets charities share their stories in novel ways. It lets them convey their mission and message to the world and increase their reach through social sharing. For all of these reasons and more, philanthropies are finally seeing that visual content and social media are a powerful charitable pair. Visu.al.com gave a closer look at their charitable contributions.
A New View of Visual Content
Charities used to rely on traditional forms of content marketing like direct mail and print promotions to engage with their supporters. With the dawn of the digital age, the marketing methods have changed and a growing number of charities are using visual content to communicate with contributors.
One way charities can encourage supporter engagement is through social media. Facebook, Twitter, YouTube, and Instagram let organizations easily engage and connect with their supporters. Recently, Instagram has become extremely popular with charities for the way it allows for storytelling through images. This is especially useful for international, environmental, and humanitarian groups because it lets them share their works in a visual format, which people can instantly understand.
Even though it claims the highest engagement rate, Instagram is only one of the platforms used by philanthropies. According to the 2014 SONU report:
96% of charities use social media to communicate with supporters, which is an 80% increase over the previous year.
88% of charities use Facebook.
88% of charitable organizations use Twitter.
Almost 50% of philanthropies use YouTube
A growing number of charities are using other visual media platforms.
Visual Content Captures Views and Viewers
Did you know that an average of 94% more total views result from visual content than from content without any images? This was revealed by MDG's marketing team, who shared research that showed the powerful pull of visual content.
How can an image make such an impact? Let us count the ways:
Visual content engages people on more personal levels.
It also suits our busy lives and responds to our short attention spans, which makes infographics so useful because they condense a great deal of facts into a short, visual format.
Images are universal and break the bounds of language and learning.
The visual is easier to perceive and process, and tends to be better remembered.
It is also incredibly sharable on any social media platform.
Crowdsourcing through Visuals Attracts Crowds of Support
Once an obscure funding format, crowdsourcing has found fame on social media platforms. It attracts awareness from large groups of people and inspires interest in funding projects. It's picture-perfect for charities whose support mainly comes from contributions.
In 2014, there was a major rise in philanthropies that crowdsourced visual content from donors. Some asked supporters to post videos and photos based on certain themes, and then share them with their social networks. The most successful example was the ALS ice bucket challenge, which generated an estimated  $98.2 million in only one month.
As you can see, visual content can do a world of good for philanthropies because it supports their connection to supporters.
See what works in content marketing. Contact MDG today at 561-338-7797 or visit www.mdgsolutions.com.
MDG, a full-service advertising agency with offices in Boca Raton and New York, NY, is one of Florida's top branding firms. MDG's capabilities include print advertising, direct mail marketing, branding, logo design, creative, digital marketing, media buying and planning, radio and TV advertising, website design and development, online video advertising, infographic development, email marketing, mobile marketing, inbound marketing, content marketing, social media marketing, paid search marketing, and SEO. To learn about the latest trends in advertising and branding, contact MDG today at 561-338-7797 or visit www.mdgsolutions.com.