Hugo Boss Uses an Integrated 3D Social Media Campaign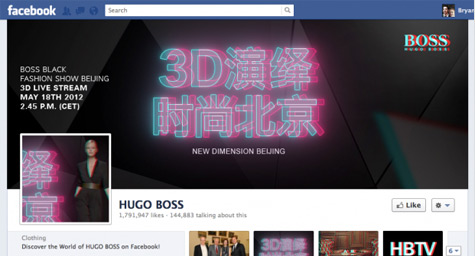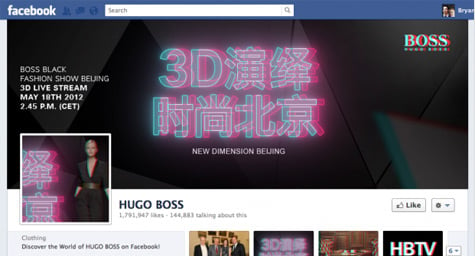 The use of 3D has become a big trend in the movie business and now the fashion industry has begun incorporating this technology into its social media advertising. Designer Hugo Boss recently released a social media campaign that drew on the thrill of 3D to promote its Boss Black Fall/Winter 2012 line. SocialMediaToday.com reported on this visual virtual approach to promotion.
The brand was able to integrate 3D technology into every component of its campaign. These included a 3D live stream video featuring a runway show of the clothing collection, a full array of 3D promotional collateral supporting the launch and the addition of 3D elements to the Hugo Boss website.
On the website, the section dedicated to the Boss Black Fall/Winter 2012 fashion show featured all of its videos, text, and images in 3D. The site was designed to allow access to additional content by simply clicking on the images. Some of this content directed visitors to promos for the summer clothing collection, as well as to a sweepstakes for tickets to the official launch of the Boss Black Fall/Winter 2012 line.
Supporting these digital elements was a social media campaign implemented across numerous social media channels. The brand generated buzz for the launch of the line by leveraging the new Facebook Timeline to promote its 3D live stream fashion show and posting 3D images of the collection to its Facebook page. The brand continues to publicize its 3D fashion show on Facebook by posting highlights from the event, links to the 3D section of their website, and other items intended to engage and excite its fashion fans. In addition, Hugo Boss rolled out a series of 3D videos from the fashion show that can be seen on YouTube via a Hugo Boss-branded YouTube player and accessed through Facebook.
The brand's collaborative use of 3D, Web development, and social media resulted in a truly integrated interactive marketing campaign that is often difficult to achieve. It demonstrated the company's strong understanding of its customers' interests and a keen awareness of how these fans use their various social media platforms. With this campaign, Hugo Boss has gone from being a trendsetter in fashion to becoming a leader in digital development.
To discover the latest ways to use social media campaigns to capture your audience's attention, contact MDG.
At MDG, our 360° marketing approach uses just the right mix of traditional and online media to reach your retail marketing goals. While some industries may fare better on TV and others online, we strive to create a balanced approach where digital and traditional marketing efforts support each other and your message is tailored to the medium.