Inside IBM's U.S. Open Digital Expo -Digital Marketing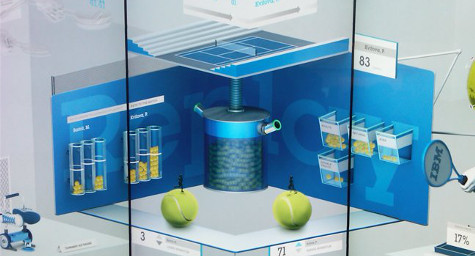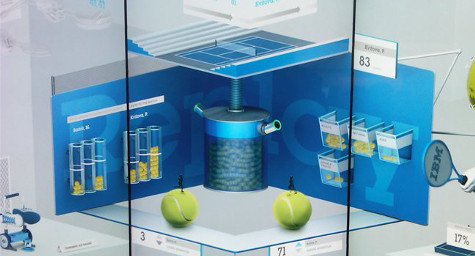 Tennis wasn't the only excitement at the U.S. Open Tennis Championship as spectators enjoyed the digital marketing delights offered by event sponsor, IBM. The technology company provided an array of interactive spectacles that let visitors discover and experience various elements of tennis while allowing IBM to display its product innovations and brand attributes. Adweek.com reported on the details of the digitally enhanced event.
IBM has been sponsoring the prestigious tennis tournament for 22 years. Now, their involvement has become more than a branding strategy and evolved into a sales forum for IBM Interactive, their digital marketing agency that specializes in website design, mobile apps, analytics for Internet and social media, and more.
In an effort to showcase both the U.S. Open and IBM brands while simultaneously promoting their interactive skills and services, IBM developed a special U.S. Open iPad app. It offered a stream of up-to-the-minute match data on a dashboard designed to show the players most likely to win. The app was meant to complement the tournament's previous iPhone and Android apps.
IBM's sophisticated data was also used by ESPN. As part of their partnership, ESPN relied on IBM for the facts and figures in its "Keys to the Match" broadcast feature.
One of the IBM features most popular with tournament attendees was a billboard-sized "Game Changer Interactive Wall" touch screen located in a separate building on the U.S. Open campus. The game allowed participants to perform a wide range of tennis-related activities, including virtually hitting tennis balls, analyzing detailed tournament data, learning about factors impacting a player's performance on the court, and even checking in to Foursquare to share their location with friends.
IBM wasn't the only company using the event for promotional purposes. Brands like Xerox, Mercedes-Benz, and Heineken set up all kinds of signage and stands. Beyond these basic displays, Heineken and Xerox also went digital by buying Promoted Ads that appeared on all "U.S. Open" search results on Twitter. Xerox also used the social media site to promote its philanthropic campaign on Foursquare.
With so many innovative promotional tie-ins to the tennis tournament, it looks like digital marketing was a big hit with brands at this year's U.S. Open.
To learn more about the latest trends in digital marketing, contact MDG today at 561-338-7797, or visit www.mdgsolutions.com.
MDG, a full-service Florida marketing firm with offices in Boca Raton and New York, NY, specializes in developing targeted Internet marketing solutions, exceptional creative executions and solid branding and media buying strategies that give clients a competitive advantage. Our core capabilities include branding, logo design, creative, digital marketing, print advertising, mobile marketing, media planning and buying, TV and radio, website design and development, content marketing, social media marketing, and search engine optimization (SEO).
Read more at Adweek.com.