Imaginative Ad Campaign for Nabi DreamTab Takes Root in a Tree House Theme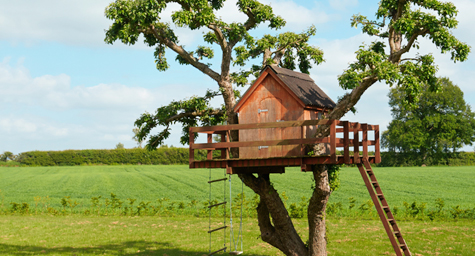 As DreamWorks Animation branches beyond the movie business, the company planted its latest efforts into a children's computer tablet called the Nabi DreamTab. The tablet is the debut device from the company's partnership with Fuhu. The move most likely grew from the Common Sense Media report that showed 72 percent of American children ages 8 and younger used a tablet or smartphone in 2013, which is twice the number as in 2011. Yet rather than play up the tablet's many features, they are  stemming its introduction on an ad campaign grounded in tree houses. The New York Times featured more on the ad campaign to show how it grew around tree houses.
"A tree house encapsulates imagination and wonderment and fun, and it elicits that kind of reaction across any generation because it is where people go to believe in their imagination," said Brian Robinson, head of creative design and development at DreamWorks Animation. "And for us it became this symbol of exactly what the tablet stood for."
While the tablet was introduced in stores on June 2, the promotional push has just begun with playful outdoor advertising already in place and TV advertising set to start in July.
They've already gone all out for outdoor with a billboard near Times Square in New York City that features favorite DreamWorks characters peering from behind a tree trunk. While the characters are cute, the billboard itself is traffic-stopping because it's built to resemble a tree house with an attachment added to the top that makes it look like it hangs from a huge tree branch. The board boldly reads, "A symbol for dreams. A place for imagination."
In the first TV spot, a tree house is filled with kids and one emerges to voice the view that they are more than just children, but truly the next generation of inventors, explorers, dreamers and doers because often the biggest ideas sprout from the smallest minds.
The advertising campaign also includes a digital dimension with web videos starring the same child actors as they use the DreamTab to make digital projects like animated videos.
More promotions are set to spring up in July and August as tree houses pop up in New York City, Los Angeles, and San Francisco. These tree houses are built on actual tree trunks that are perched on platforms for easy transport. At the events, kids can play on the DreamTab while their parents learn about the tablet's many features.
While DreamWorks spends its summer promoting the Nabi DreamTab, the company will be branching out again this winter by introducing a DreamHouse at malls. In the DreamHouse, the holidays will get high-tech by having Santa surrounded by walls of video monitors and interactive activities for kids like virtual sleigh rides with Shrek.
With all of DreamWorks' creative products and promotions this year, it makes you wonder what inspired offshoots they'll bring next spring.
Discover the secrets of successful branding firms. Contact MDG today at 561-338-7797, or visit www.mdgsolutions.com.
MDG, a full-service advertising agency with offices in Boca Raton and New York City, is one of Florida's top branding firms. MDG's capabilities include print advertising, direct mail marketing, branding, logo design, creative, digital marketing, media buying and planning, radio and TV advertising, outdoor advertising, Web design and development, online video advertising, infographic development, email marketing, content marketing, social media marketing, and SEO. For the latest trends in advertising and branding, contact MDG today at 561-338-7797 or visit www.mdgsolutions.com.