In Latest Play for City-Dwellers, P&G and Walmart Take Inspiration From Food Trucks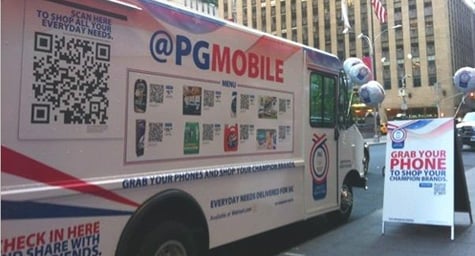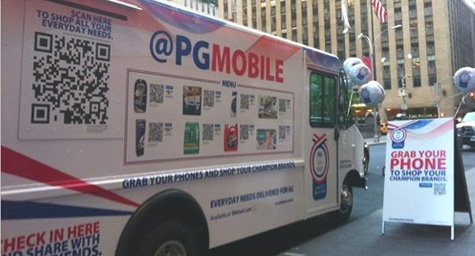 The popularity of the food truck scene has led Procter & Gamble to partner with Walmart on a month-long promotion to increase both of the brands' coverage in urban areas. The initiative involves launching food truck-style mobile centers in New York City and virtual "pop-up" stores at various bus stops in Chicago, with all featuring an array of popular P&G products. AdAge.com reported on how these big brands are hitting the big cities to take their message to the street.
"We look forward to seeing results of this initiative in Chicago and New York," said Chad Brizendine, brand manager, Walmart Grooming and Walmart.com. "While I can't elaborate on our plans going forward, we know reaching the urban consumer is a big opportunity for us and we are committed to finding the right to better serve this consumer."
This collaboration is the result of Amazon's growing market share among city-dwellers who would rather go online and have large items conveniently delivered to their apartments than drive out to the big-box retailers typically located in more sprawling suburban areas. Their goal is to bring hefty items, such as big boxes of diapers and huge jugs of cleaning supplies, straight to people on the street to eliminate the need to carry heavy items or make long trips.
The brands are achieving this all-important accessibility through an integration of social, mobile, and real-time methods. The P&G trucks will be located around Manhattan's most highly trafficked areas. Yet while other trucks have traditionally used Twitter simply to announce their locations, these trucks will use the social media service to allow prospective customers to tweet requests to have trucks driven directly to their homes and offices. Still, P&G made it clear that the trucks will obey all city ordinances regarding parking and placement.
In addition, the trucks will display oversized QR codes that direct consumers to Walmart's e-commerce hub offering free shipping with a minimum purchase of $45. The intention is to show shoppers how they can conveniently go to Walmart.com and continue to buy the products offered on the P&G trucks.
While there are no immediate plans to turn the trucks and pop-up stores into permanent city fixtures, both P&G and Walmart realize that this is a huge opportunity to reach more urban consumers and promote their presence among the ever-increasing e-commerce competition.
To discover innovative ways to implement guerrilla marketing techniques, contact MDG today at 561-338-7797, or visit www.mdgsolutions.com.
MDG, a full-service, award-winning Florida advertising agency with offices in Boca Raton and New York, NY, specializes in developing targeted Internet marketing solutions, exceptional creative executions and solid branding and media buying strategies that give clients a competitive advantage. Our core capabilities include branding, logo design, creative, digital marketing, print advertising, direct mail marketing, media planning and buying, TV and radio, Web design and development, email marketing, innovative guerrilla marketing, social media marketing and SEO.
Read more at Adage.com.