Instagram to Post New Response and Relevance Features to Ad Platform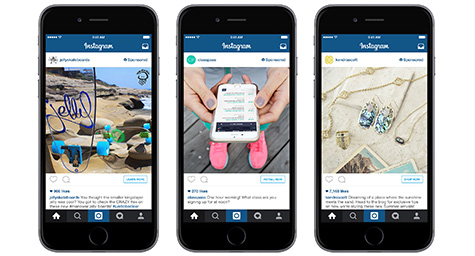 Instagram is updating its ad platform with a few new features to boost business for advertisers and enhance the user experience. These features include call-to-action buttons that drive immediate user response, along with better targeting options to increase ad relevance for more refined reach. AdWeek.com posted more on these features that should help Instagram advertisers snap up more business.
Call-To-Action Buttons That Result in Response
Instagram will soon start testing call-to-action buttons such as Shop Now, Sign Up, and Install Now. These buttons will benefit both companies and customers in a variety of ways. For businesses, these buttons will increase brand awareness, improve offline sales, and drive immediate response. And Instagram users will be able to take immediate action and streamline the shopping process, learn more about featured products and services, quickly sign up on a website, and easily download an app. Instagram plans to test more call-to-action buttons very soon.
More Relevance for On-Target Ad Targeting
Following in the footsteps of Facebook, Instagram is also enhancing its ad targeting to make its sponsored posts more relevant. The company understands that people use Instagram to follow their personal interests, so they want the ads they're served to reflect these specific interests. This will allow advertisers to target and reach people beyond mere age or gender, but by their personal passions, which should make their messages much more relevant.
Instagram plans to expand its targeting features later this year to continue helping business and brands connect with customers. Their plans include:
Collaborating with Facebook to increase targeting effectiveness to help Instagram advertisers reach people by specific demographics and interests, along with customer data from businesses.
Improving the feedback functionality of Instagram to give users more control of the ads they see. This will increase the relevance of the ads they're served, which should increase their response rate.
In addition, Instagram is working closely with certain Facebook Marketing Partners to bring Instagram ads via Facebook's ad buying interfaces over the next few months. The goal is to drive more advertisers to Instagram's ad platform.
With these new features, more advertisers may see that Instagram is the picture-perfect social media platform for their brands.
Get the latest updates on social media marketing. Contact MDG today at 561-338-7797 or visit www.mdgsolutions.com.
MDG is a full-service advertising agency and one of Florida's top branding firms. With offices in Boca Raton and New York City, MDG's core capabilities include branding, logo design, print advertising, digital marketing, mobile marketing, email marketing, media planning and buying, TV and radio, outdoor advertising, newspaper, video marketing, website design and development, content marketing, mobile marketing, social media marketing, and SEO. To discover the latest trends in branding and advertising, contact MDG today at 561-338-7797.