Instagram's New Clickable Carousel Ads Are Great for Travel Marketing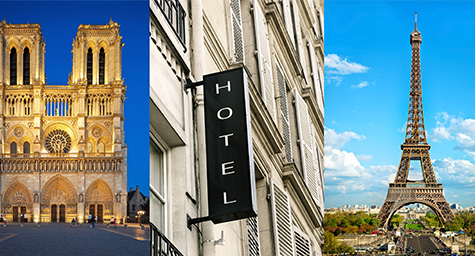 Travel means different things to different people, so it's important for travel marketers to both pique and speak to the specific interests of each audience to make them look and book. So it should be welcome news to travel brands that Instagram has released clickable Carousel Ads that let brands display multiple images in an ad to share numerous features and facets of their promise. Rather than let a single snapshot express the brand's value, these ads take viewers on a visual voyage that lets them virtually experience what a brand has to offer to make both their experience and offer more appealing. Once viewers have swiped through all of the images, the final screen is a call-to-action that moves them toward a conversion funnel and brings them one step closer to conversion. To see how Instagram's clickable Carousel Ads can accommodate travelers and travel marketing, tNooz.com shared their highlights.
A Tour of Travel Marketing Benefits
With these clickable Carousel Ads, Instagram is positioning itself as desirable online location for advertisers, especially for travel brands, which are increasingly targeting specific markets with their ads and offers. Take a peek at some of their perks:
Hotels can display a series of images that highlight numerous aspects and amenities of the hotel based on the interests of the audience they are targeting. The call-to-action of each ad can also be customized to be relevant and resonate with each target market.
Airlines can feature a different destination in each ad and focus on a special fare to get travelers there affordably. Yet rather than show a single image of the location or in-flight experience, the ads can roll out multiple images of all of the airline's strengths, as well as the beauty of the final destination to ensure that they touch on all of the touch points.
Restaurants can highlight several dishes to appeal to different tastes, with the call-to-action screen offering quick and easy reservations. This is an ideal geo-targeting tactic for restaurants trying to lure travelers unfamiliar with area, as well as anyone searching for someplace new nearby to dine.
In-destination providers like tour companies and attractions operators can introduce viewers to the highlights of their offerings, followed by a call-to-action with a special deal for booking.
These clickable Carousel Ads are very new, so Instagram plans to pay attention to user response and recommendations in order to evolve them over time. Yet there is no denying that these Carousel Ads can greatly benefit travel brands and there's no telling how far they can take them.
View what's new in hospitality marketing. Contact MDG.
MDG, a full-service advertising agency with offices in Boca Raton and New York, NY, is one of Florida's top hospitality marketing companies and branding firms. MDG's core capabilities include advertising, branding, logo design, creative, infographic development, digital marketing, creative media planning and buying, radio and TV advertising, website design and development, email marketing, mobile marketing, content marketing, social media marketing, and SEO. To stay up to date on the latest trends in hospitality marketing and advertising, contact MDG.