Is Cord-Cutting Killing TV? Here's What the Data Says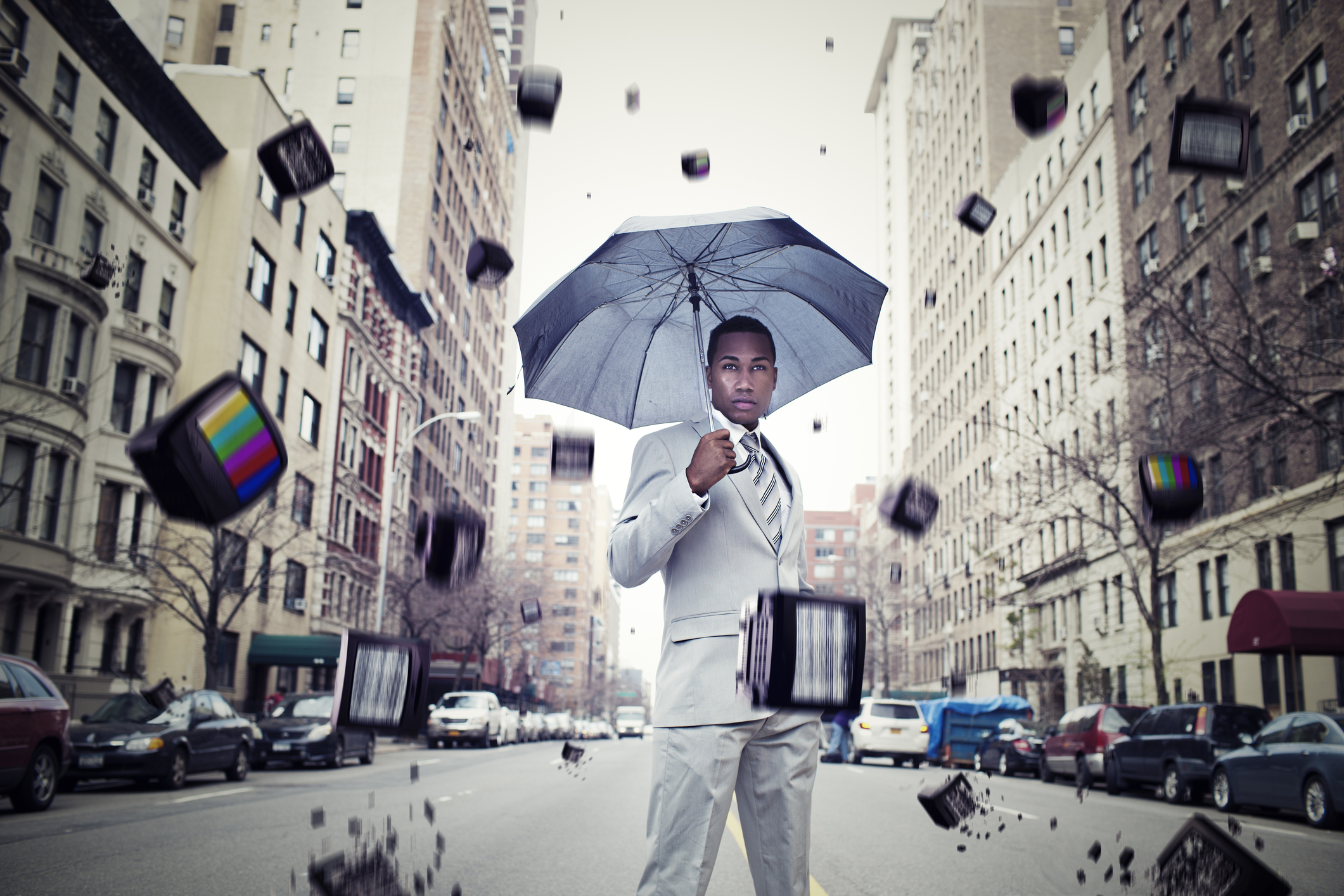 How do people watch long-form videos, such as shows, movies, and live events, in their homes?
Not too long ago, this would have been an easy question to answer: people watched either on DVD or on television.
Today, it's not so simple. The DVD-era is over (RIP Blockbuster Video) and television faces competition from a wide-range of OTT (over-the-top) digital services such as Netflix and Amazon Prime Video.
While these platforms were initially seen as supplementary entertainment channels, they are now viewed as direct adversaries and are inspiring increasingly dire predictions about the future of traditional television.
Is this concern warranted? Are OTT services truly that popular? Is cord-cutting commonplace? Are digital platforms killing television?
To find out, we looked at three recent in-depth analyst reports: eMarketer's US OTT Video Forecast and 2018 Digital Video Trends, and Deloitte's Digital Media Trends Survey.
Here are five key insights from the data:
1. Cord-Cutting Is Increasingly Popular
The first thing that stands out from the research is that cord-cutting — cancelling paid TV and continuing without it — is no longer a niche behavior. A fairly large segment of American adults are already cord-cutters and that share is expected to grow significantly in the coming years.
According to eMarketer data, the number of cord-cutters in the United States will reach 33 million by the end of 2018, a 33% jump over 2017. This growth rate is much higher than what was predicted last year (eMarketer had initially forecast it to be 20%).
Moreover, it's expected that the by the end of 2022, some 50 million US adults — one-fifth of all viewers — will no longer be paying for traditional television.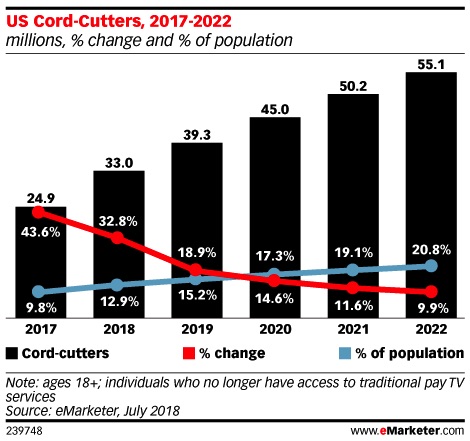 2. The Majority of Americans Now Watch Video on OTT Services
There are a number of factors driving cord-cutting —  unhappiness with the cost of cable, a lack of interest in traditional TV offerings, etc. —  but the largest, by far, is simply that consumers have a viable alternative.
OTT services, which individually are significantly cheaper than paying for cable, have now been widely adopted by Americans. In fact, eMarketer estimates that 170 million people in the US, 52% of the population, view video content on an OTT service at least once per month. And, this number is expected to increase to 198 million by 2022.
The most utilized service, by far, is Netflix: some 55% of Internet users watch videos on the platform. However, a host of other offerings are also popular, including Amazon Prime Video (26% of Internet users watch), Hulu (17%), YouTube TV (9%), and HBO Now (6%).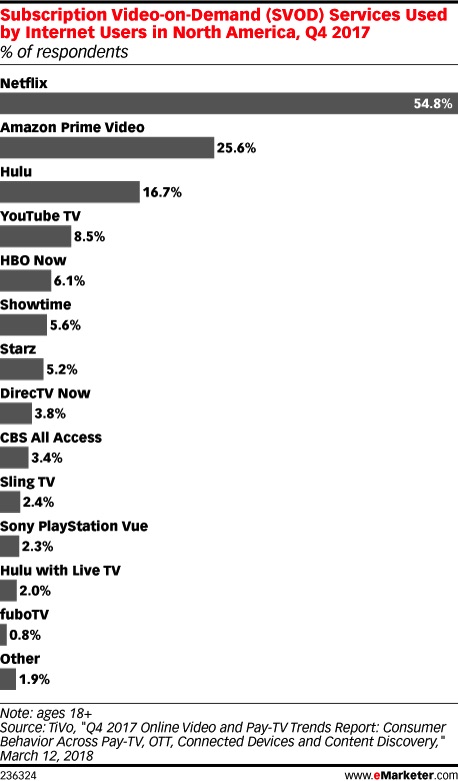 3. Audiences See a Lot of Value in OTT Services
Consumers are not just turning to OTT services because of price: there are a number of qualities about these services that they highly prize.
When Deloitte surveyed OTT subscribers, the researchers discovered that audiences find many things about the platforms appealing, including the ability to watch content anytime (73% of subscribers), a lack of commercials (67%), the ability to watch content anywhere (62%), the original content offerings (49%), and the ability to watch on multiple devices (49%).
What's interesting is that this appeal isn't limited only to scripted or pre-recorded content. The ESPN+ service, a OTT sports-orientated platform that does not require a cable subscription, has already garnered more than 1 million paid subscribers since launching earlier this year.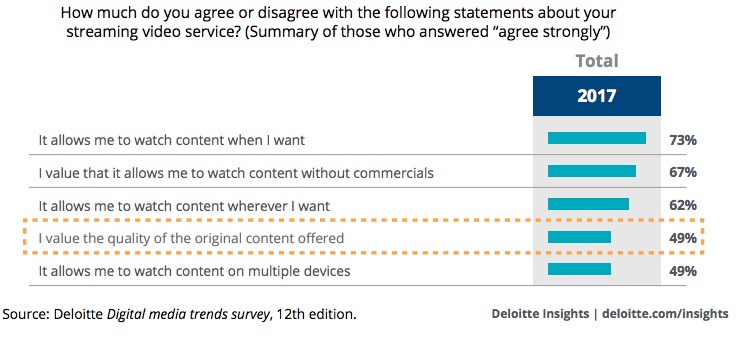 4. The Video Habits of Younger and Older Audiences Differ Significantly
When looking at long-form video watching behavior it's important to keep in mind that there are significant variations in audience behavior.
In particular, a key finding from the research indicates that different generations are now consuming content in very different ways.
Deloitte found that more than half of Americans who are Gen X, Millennials, and Gen Z say they stream television programming frequently, compared with less than a third of Americans who are Boomers and older.
Moreover, there are notable differences among younger generations: 70% of Gen Z and Millennials say they stream movies (compared with only 60% of Gen X), and 69% of Gen Z stream TV shows (compared with 66% of Millennials and 55% of Gen X).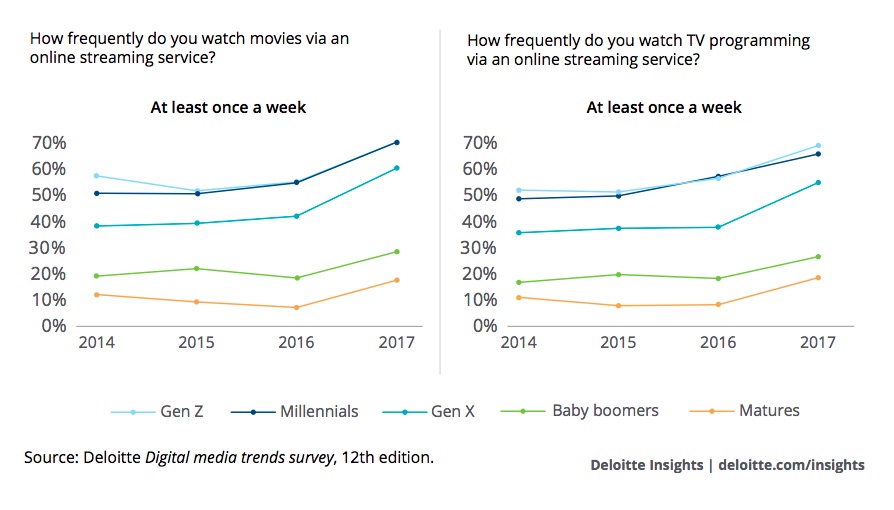 5. Traditional Television Remains a Mass Medium and Key Advertising Channel
So, does all this mean that traditional television is dead? Put simply: No.
While the share of Americans paying for TV is indeed declining, the drop is by no means precipitous. According to eMarketer data, some 194 million US adults (77%) continue to be traditional pay TV viewers. And even in 2022, after years of steady cord-cutting, 170 million US adults (64%) are expected to be traditional pay TV viewers.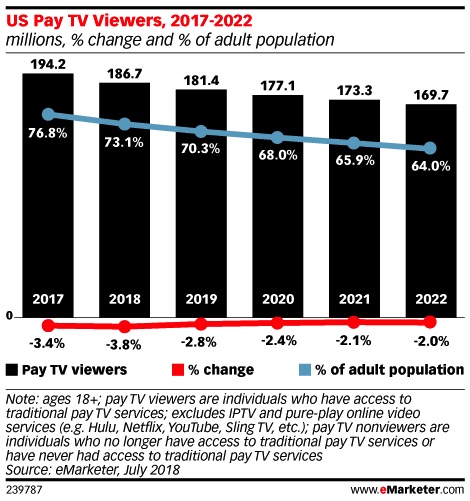 Advertising forecasts tell a similar story: According to eMarketer data, in 2022 television spend is expected to be $68 billion, only down slightly from $70 billion today and still more than double the spend on digital video ($30 billion).
Ultimately, the television landscape is changing significantly, but not (yet) being decimated. OTT services are steadily gaining traction, especially with younger audiences, and cord-cutting is a legitimate trend, but traditional television is set to remain the most popular mass media and advertising channel — at least for a few more years.
Stay up to date on the latest trends in advertising. Contact MDG today at 561-338-7797 or visit www.mdgsolutions.com.
MDG, a full-service advertising agency with offices in Boca Raton and New York, NY, is one of Florida's top branding firms. MDG's capabilities include print advertising, direct mail marketing, branding, logo design, creative, media buying and planning, radio and TV advertising, outdoor, newspaper, digital marketing, website design and development, online video advertising, infographic development, email marketing, video marketing, mobile marketing, content marketing, social media marketing, paid search marketing, and SEO. To learn about the latest trends in advertising and branding, contact MDG today at 561-338-7797 or visit www.mdgsolutions.com.