Is Facebook the New Face of the Legal System?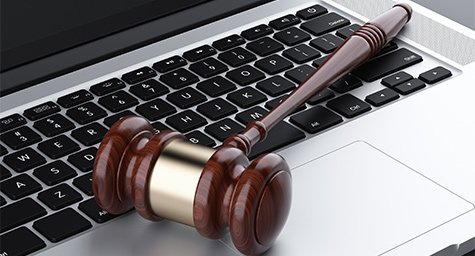 Social media is moving beyond serving up ads to serving up legal papers. We've continued to follow the communication revolution advanced by social media and now it looks like the courts have made it official. A New York father recently received legal permission to use Facebook to serve child support papers to his ex-wife. The child's father, Noel Biscocho, felt forced to use to the social network after repeated failed attempts to locate or reach his ex-wife in any other way. It may seem unconventional, but it was definitely effective and enabled Mr. Biscocho to not only find his ex-wife, but attain legal consent to take the unprecedented step of using the social network to serve the legal order. This legal win for social media serves as further proof of the extraordinary reach of this digital channel and enormous value to marketers for connecting with even hard-to-reach audiences. Gigaom.com posted more on the social story.
According to the court order, Mr. Biscocho had tried numerous other methods to locate his ex-wife, from texting his children for her address to even searching for her on Google. While all of these efforts failed, Mr. Biscocho eventually discovered that she was active on Facebook.
Since the social network was the only mode of contact, the judge ruled that she could be served the order via Facebook, as long as a copy was also mailed to her last known address.
While the use of Facebook to serve a legal order is unprecedented in the U.S., the practice was previously permitted in Australia in 2009, as well as the U.K. courts in 2011. Yet only two years ago, a Manhattan court ruled that a bank could not use Facebook to serve papers on an identity thief.
It seems that times have changed in the U.S. and the explosive popularity and potential for reach of social media has now made it a legally acceptable means of contact. And it really is perfectly legal since the rules of the service permit people to use a wide range of methods to deliver a document, including delivering it in person, through a lawyer, or even via email if necessary. If those methods prove unsuccessful, then the petitioner can apply to the court for permission to try an alternative method.
"The idea that physically handing someone a piece of paper is the only way to serve notice is archaic," said lawyer Michael Stutman, head of family law at Mishcon de Reya in Manhattan.
Once again, social media is proving its effectiveness for reaching and connecting with audiences. Marketers need to take note of social media's ever-increasing prominence and power to get in touch with consumers anywhere and at any time.
Tap into the strength of social media. Contact MDG today at 561-338-7797 or visit www.mdgsolutions.com.
MDG is a full-service advertising agency and one of Florida's top branding firms. With offices in Boca Raton and New York City, MDG's core capabilities include creative, branding, logo design, print advertising, digital marketing, mobile marketing, email marketing, media planning and buying, TV and radio, outdoor advertising, newspaper, video advertising, Web design and development, content marketing, lead generation, mobile marketing, social media marketing, and SEO. To discover the latest trends in branding and advertising, contact MDG today at 561-338-7797.