Is It Time to Change the Channel for TV Metrics?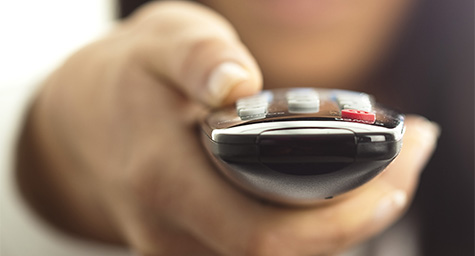 For decades, Nielsen has been the reigning media ratings system. It's a tried-and-true metrics system based on TV audience and it's been the driving force behind advertising sales. But today, social media like Twitter is redefining the ratings game by basing a TV show's popularity on its number of followers and the amount of conversations it generates. And since Nielsen's highest-rated shows are rarely the ones getting Twitter talking, media buyers are faced with the challenge of deciding which shows are best to buy. The Wall Street Journal reported on which metrics and channels are worth watching when making media buys.
Rating the Ratings
The broadcast business is still strongly tied to traditional TV ratings, but new digital channels and technologies are making metrics much more difficult to define, and ultimately making it more difficult for advertisers who are unsure of the metrics that matter most in their media buying.
Social media, especially Twitter, has continued to get a lot of buzz as the modern way to tap into what TV viewers are seeing and saying. But broadcasters warn not to place too much trust in Twitter data since research has shown that the majority of TV chat still happens face-to-face and over the phone. Only 5% of TV talk occurs online, so Twitter is not truly representative of all TV viewers.
Between people's busy lives and jam-packed TV schedules, it can be hard for viewers to keep up with the lineup of all of their favorite shows. That's why DVR viewing is steadily growing in popularity. Last season, two broadcast series had their audience grow by more than 4 million when DVR viewing was factored in.  And so far this season, that number has risen to 11 series.
While technologies for tuning in to TV are evolving and expanding at a rapid rate, the technology for measuring which shows people are watching is slowly lagging behind. That's because totaling TV viewers is too basic. But tracking social media buzz omits too many millions of offline viewers. And counting DVR viewers can take too long and most advertisers aren't interested because these viewers fast-forward through their commercials anyway.
Interestingly, broadcast networks continue to rely on old-school research methods like online opinion surveys to measure audience attitudes. And Twitter does this job for them indirectly by providing a forum for people to volunteer their views in real time and often while shows are airing live.
Social Media as Resource Instead of Ratings Source
While the experts are debating and developing metrics for social media, the channel is currently most valuable as a tool for research and promotion.
Nielsen has tuned in to Twitter as a source of TV viewing research and teamed up with the social network to release rankings of TV shows based on the total of tweets about each episode. They are also ranking the number of impressions and unique audiences for these tweets to make the most of the social data. In turn, Twitter is leveraging this Nielsen information to help sell ads on the social media platform.
Broadcast networks are using social media as a timely and trendy tool for promotion. Networks know they must keep shows popular to bring in both the ratings and ad revenue. And social media like Twitter makes it easy to generate buzz about shows and get people talking, tweeting, and tuning in. This makes social media like Twitter a valuable way to keep shows viable. As a result, networks now label shows with hashtags and have cast members tweeting along during airings.
But Twitter isn't the only social source of viewer sentiment. If Twitter measures real-time reactions, Tumblr shows audience adoration with its scrollable style of photos, video, and content dedicated to fans' favorite shows.
While the range of ratings may be complex, a simple solution is to use all of the data sources to ensure full audience reach. Look at Nielsen, see what's trending on Twitter, and then consider all of that viewing data to make the most knowledgeable media buying decisions.
Leverage the latest opportunities in TV media buying. Contact MDG.
MDG, a full-service advertising agency with offices in Boca Raton and New York, NY, is one of Florida's top branding firms. MDG's core capabilities include print advertising, direct mail marketing, branding, logo design, creative, digital marketing, media planning and buying, radio and TV advertising, Web design and development, online video advertising, email marketing, content marketing, social media marketing, and SEO. To learn about the latest trends in advertising and branding, contact MDG.