It's Not WHAT You Need To Go Viral – It's WHO [Viral Marketing]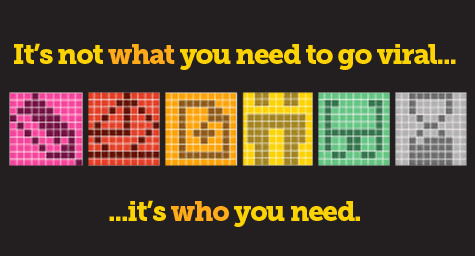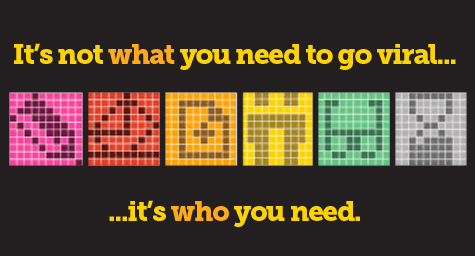 Viral marketing can provide enormous search, social, and brand benefits. While most marketers are well aware of the kind of content that will take a video viral, little is discussed about the actual users who have the ultimate power to ensure victory for their viral marketing efforts. To provide a better understanding of the people who pass along this valuable viral content, SearchEngineLand.com provided the following facts and factors.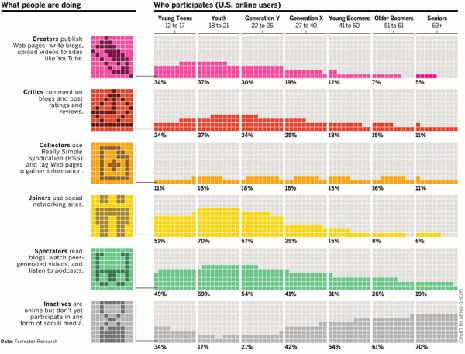 Click image for larger version
1. Understand Your Audience – Research shows that there are seven specific groups of audience interaction on social media sites. Some are more powerful than others when it comes to taking content viral. The most influential are the Creators who regularly use existing content to create their own, followed by the Conversationalists who frequently share and discuss content on social media. These two groups are considered the most instrumental in successful viral marketing. The next group are the Critics who want to join the conversation yet are often more passive about sharing content, followed by the Collectors who accumulate sites and content on the topics that interest them. Next come the Joiners who eventually see the content and share it with others, then the Spectators who usually come behind the major traffic required to go viral. Finally, the Inactives are the group that simply sees the viral content all over the Web.
2. Focus on the Most Powerful Promoters – Influence is what ultimately takes content viral, so viral marketing content should target the popular bloggers, respected journalists, heaviest social media users, and most fervent followers to spread your message. Develop relationships with these people since they are so vital to link building and achieving virality.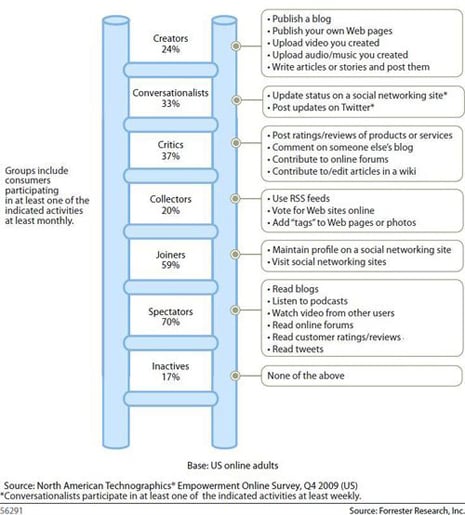 3. Reciprocate for Results – At every stage of the online relationship, it's important to reciprocate in order to receive. Share links, comment on blog posts, spread content throughout your social network, and show that you're an active participant in the social media spectrum. This will maximize the sharing potential of your content and earn you the respect of the social media community.
4. Get Feedback Before Moving Forward – Ask some of your content targets to review any potential content before publishing Web-wide. These people will tell you if it will interest their communities, as well as how it can be altered to enhance its chance of going viral. If it gets positive reviews, your targets will feel they got an exclusive glimpse and have personal motives to spread it throughout their networks.
5. Be Timely and Mind Your Timing – With your viral marketing strategy, it's important to schedule the release of your content at a time that will garner the most audience interest. Also, be aware that each audience and network has its peak times for sharing content, such as Facebook's popularity on Saturdays and the business industry's tendency to share mid-week.
Each industry and audience is unique. Yet taking the time to study their patterns, gauge their interests, and build relationships can make a world of difference when it comes to spreading your content to the world.
To discover how innovative viral marketing tactics can enhance your social media marketing strategy, contact MDG today at 561-338-7797 or visit www.mdgsolutions.com.
MDG, a full-service Florida advertising firm with offices in Boca Raton and New York, NY, specializes in developing targeted Internet marketing solutions, exceptional creative executions and solid branding and media buying strategies that give clients a competitive advantage. Our core capabilities include branding, logo design, creative, digital marketing, print advertising, direct mail marketing, media planning and buying, TV and radio, Web design and development, content marketing, viral marketing, email marketing, social media marketing and SEO.
Read more at Searchengineland.com.