KFC Ad Campaign Gets Customers Crowing About the Brand on Social Media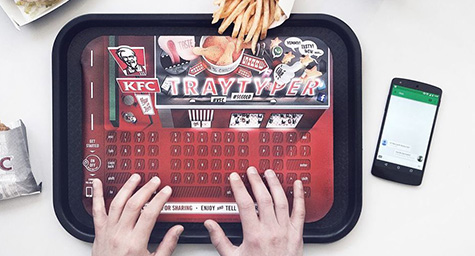 KFC built buzz for its finger-lickin' chicken by putting social media at its customers' fingertips. As part of an ad campaign for the fast food chain in Germany, KFC served up meals on trays lined with The KFC Tray Typer. This was a wafer-thin, rechargeable Bluetooth keyboard that connected to a customer's smartphone and allowed them to text with greasy fingers without doing damage to their phones. TheVerge.com posted more on how the effort got customers clucking on social media about the campaign and the chicken chain.
At the opening of its new locations, KFC replaced the waxy paper slip that typically lines fast food trays with The Tray Typer. This gave customers instant access to social media, while saving their smartphones from getting messed up by their messy fingers. It both encouraged and enabled them to leave real-time social media posts about the campaign and the brand before they ever left the restaurant. The result was a huge increase in KFC's geolocated social media discussions.
While The Tray Typers were designed to be wiped off and re-used, they were so popular with customers that that they were all taken home.
Now, this is not the first time that KFC has feathered its nest with technology. Last year in Japan, the chain created a keyboard, mouse, and USB stick set that were all shaped like pieces of fried chicken.
With the success of The KFC Tray Typer, other brands should follow the chain's lead and lay out creative plans for social media.
Tap into the latest in social media. Contact MDG today at 561-338-7797 or visit www.mdgsolutions.com.
MDG is a full-service advertising agency and one of Florida's top branding firms. With offices in Boca Raton and New York City, MDG's core capabilities include branding, logo design, print advertising, digital marketing, mobile marketing, email marketing, media planning and buying, TV and radio, outdoor advertising, newspaper, video marketing, website design and development, content marketing, mobile marketing, social media marketing, and SEO. To discover the latest trends in branding and advertising, contact MDG today at 561-338-7797.