Kids Favor Traditional TV, But Have Their Eye on Digital Channels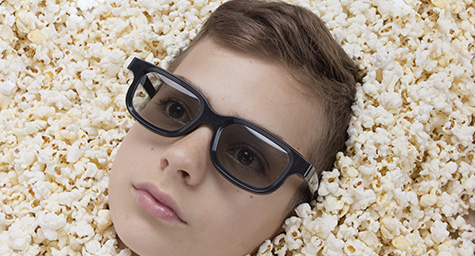 Even though kids say they're more interested in streaming shows online than watching traditional TV, their viewing habits tell a completely different story. A series of surprising findings was revealed in a new report from PricewaterhouseCoopers (PwC.) It looked at how kids ages 8 to 18 choose to view media content and how their parents affected what they watched. The study showed that kids spent more time watching traditional TV than both streaming shows online and playing video games. To tune into what kids want and watch on TV, take a look at these research results featured in MediaPost.com and MediaLifeMagazine.com.
Kids' Weekly Media Time and Tendencies
7.8 hours watching reality series or live dramas on cable channels.
7.5 hours playing video games.
7.2 hours viewing short videos on YouTube.
7 hours tuning into network TV shows.
6.1 hours watching TV programs on digital and mobile devices.
Kids' Favored Forms of Media
53% prefer streamed TV series from cable channels.
47% choose reality or drama-based shows on cable.
35% opt for video games.
Media Kids Have Grown to Know
85% are aware of Disney.
83% know Nickelodeon.
80% recognize Cartoon Network.
80% are aware of Amazon.
79% are familiar with YouTube.
78% know Netflix.
Channels Playing to Kids' Interests
38% are intrigued by YouTube.
37% are fascinated by Netflix.
27% are captivated by Disney.
The conflict between kids' desire for digital media and their predominantly traditional TV viewing habits may be attributed to the fact that their parents often choose what they view. In fact, one-quarter of kids say that their parents are in complete control of the remote control, with an almost equal amount of kids stating that they select TV shows together.
Parents may also be wary of having their children stream shows online because the smaller screens of digital devices don't let them monitor the child's viewing habits. Yet when kids watch shows on traditional TV, their parents can easily see what they watch.
These findings show that traditional TV is still the most popular viewing vehicle for kids, while also revealing that today's digital direction is starting to channel their attention.
Learn the latest about digital media. Contact MDG today at 561-338-7797 or visit www.mdgsolutions.com.
MDG is a full-service advertising agency and one of Florida's top branding firms. With offices in Boca Raton and New York City, MDG's core capabilities include branding, logo design, print advertising, digital marketing, mobile marketing, email marketing, media buying and planning, TV and radio, outdoor advertising, newspaper, video marketing, website design and development, native advertising, content marketing, mobile marketing, social media marketing, and SEO. To discover the latest trends in branding and advertising, contact MDG today at 561-338-7797.