Kit Kat Takes on Oreo in Tic-Tac-Toe Twitter Takedown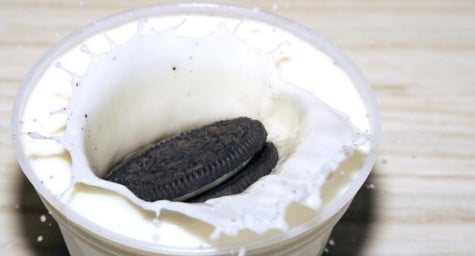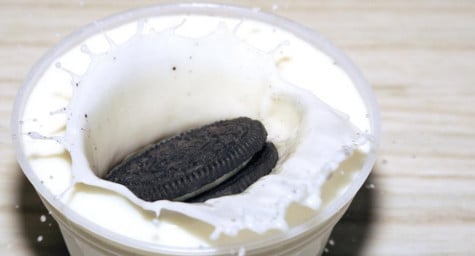 In a battle of the brands, with the prize being brand loyalty, candy brand Kit Kat challenged cookie monster Oreo to a game of tic-tac-toe on Twitter. While the contest never occurred, it's a win-win for both brands as they reap the rewards of free publicity and Twitter popularity from such a creative social media marketing idea. Mashable.com chronicled the events that led up to this playful snack attack.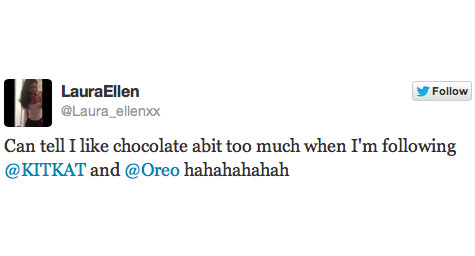 After a Twitter user tweeted that her intense love for chocolate had her following both big brands on the social media platform, Kit Kat issued a challenge to Oreo for a game of tic-tac-toe to prove which brand was worthy of the tweeter's affections. The choice of tic-tac-toe was a smart one since the game's symbols look just like the acclaimed candy sticks and sandwich cookie, giving the brands a chance to visually represent themselves.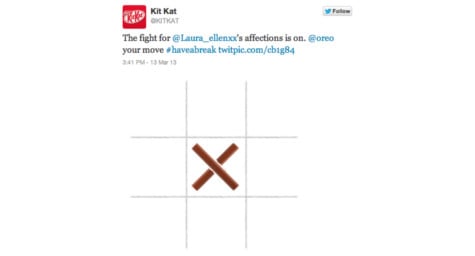 Soon, Twitter was flooded with tweets about the brand battle as their fans spread the word in support of their favorite snacks. But Oreo ultimately had the last word, or um…bite, when the cookie brand politely declined to play by tweeting an image of a Kit Kat with a bite taken out of it and a comment about the candy being too delicious to resist.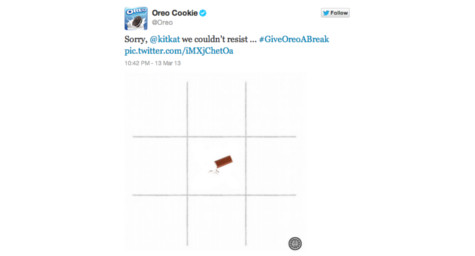 The clever social media marketing idea scored both brands lots of online buzz and publicity that cost nothing but can be truly priceless.
Oreo should know, since this was just the latest in their string of social media successes. Their rapid response and quick-thinking creative team first came to attention during this year's Super Bowl with a timely and witty tweet about the sudden stadium blackout.
Since that Super Bowl score, the brand has frequently posted images of modified Oreos that play off popular events of the moment. These playful posts have made the brand much more personable and turned many people into Oreo fans, both online and off.
Oreo's savvy use of social media should serve as a model for other brands seeking to boost buzz, awareness, and loyalty through social media platforms. By having a creative team in place that's ready to respond on the fly, a brand can leverage social media and score some really sweet rewards.
To add Twitter to your social media marketing strategy, contact MDG.
MDG, with offices in Boca Raton and New York, NY, is a full-service advertising agency and one of Florida's top creative ad agencies. MDG specializes in developing integrated marketing solutions, exceptional creative executions, and solid branding and media-buying strategies that give clients a competitive advantage. Our core capabilities include print advertising, branding, logo design, creative, digital marketing, creative media planning and buying, radio and TV advertising, Web design and development, email marketing, social media marketing, and SEO. For the latest on Twitter and social media marketing trends, contact MDG.
Read more at Mashable.com.