Launch of a Sparkling New Website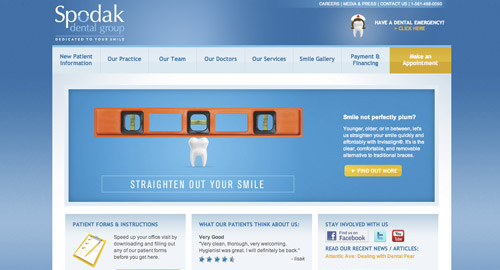 We're all smiles after polishing off a dynamic new website for Spodak Dental Group. The Delray Beach, Florida-based dental practice wanted to brighten up their online presence, so our interactive specialists gave their website a full makeover, which included reconstructing the design to complement our new branding campaign, polishing up the site content, and even more that's making the practice and patients smile.
Spodak Dental Group shines as a comprehensive dental destination offering a complete range of general and specialized services, the finest dental and medical professionals, and the most advanced techniques and technology, all in one convenient location.
Rather than simply clean up the look of the original site, our interactive team sank their teeth into its overall design and functionality to create a new site. Our dental work included:
Completely redesigning the site to correspond with the practice's new branding campaign
Enhancing the amount and quality of information throughout the site
Inserting actual patient reviews collected from an independent survey company
Integrating social media by displaying recent posts from Twitter and Facebook throughout the site
Contextually embedding videos from the Spodak Dental Group's YouTube channel
Improving on-site SEO through enhanced content and site links as well as targeted keyword titles, URLs, header text and more
With all of these visual and virtual enhancements, the new website gives Spodak Dental Group every reason to smile. To see the results, visit www.spodakdental.com
Tim Alexander is the director of digital operations for MDG where he provides the strategic and experiential direction for our clients' interactive pursuits. MDG's digital operations division provides the following services: digital brand development, research, website architecture design, site development, CMS, intranets, social media initiatives, blog development and SEO services such as site audits, keyword research and content development, competitive analysis and direct link building. For more information, call 561-338-7797 or log on to www.mdgsolutions.com.