Levi's Slips Into Water Mission On Facebook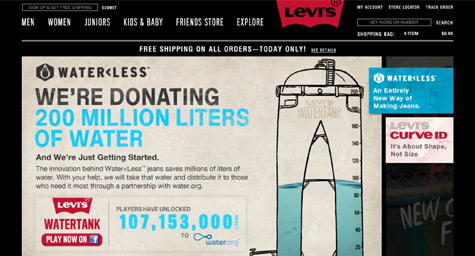 Levi's is looking to raise awareness for the world's water crisis by facing the issue on Facebook, reports MediaPost.com. The denim designer is already attracting attention with its Levi's Water 20 initiative which encourages water conservation through less frequent jeans washing, shorter showers and better laundry habits. Levi's is using this campaign to donate $250,000 to Water.org, which will bring at least 200 million liters of water to needy communities.
Levi's has already successfully engaged people on the water issue through its interactive "WaterTank" game on Facebook. In the game, players participate in fun, online water-saving challenges to be entered to win prizes including Levi's Water<Less™ jeans.  One grand-prize winner and a friend will be selected to visit a community receiving access to clean water from Water.org and personally experience the joy of community members receiving the priceless gift of water.
According to Water.org, one in eight people lack access to safe water, 2.5 billion don't have a toilet, and four million people die every year from preventable, waterborne diseases. The organization asserts that while some expect a strong Gen Y following, the group's mission really resonates best with people 50 and older, as well as women, especially moms.
While brands such as Coca-Cola and Proctor &Gamble have also rallied around the water issue, Levi's is currently making waves with this outpouring of support.
MDG, a full-service Florida advertising agency, with offices in Boca Raton and New York, NY, specializes in developing targeted Internet marketing solutions, exceptional creative executions and solid branding and media buying strategies that give clients a competitive advantage.Our core capabilities include print advertising, branding, logo design , creative, digital marketing, media planning and buying, TV and radio, public relations, Web design and development, email marketing, social media marketing and SEO. To view MDG's portfolio, click here.