LinkedIn Tops Facebook as Favorite Social Media Tool of Inc. 500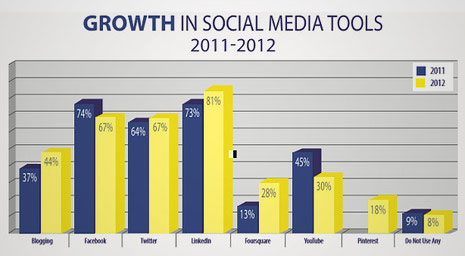 LinkedIn has become the most popular social networking tool among the fastest-growing U.S. private companies. The online professional networking site was used by more than 80 percent of businesses on the 2012 Inc. 500 list, which was an 8 percent increase from the previous year. In contrast, the number of these companies using Facebook has decreased seven percent to just 67 percent. These were the results of a recent study by the University of Massachusetts at Dartmouth, Center for Marketing Research, regarding social media adoption among the 2012 Inc. 500. MarketingProfs.com featured more of the findings from this social media survey.
Social media has become a valuable tool in our professional lives, spanning all business industries and levels of leadership. Professionals regularly use social media platforms for networking with colleagues, promoting products and brands, searching for job opportunities, publicizing and discovering industry events, following up with prospects, and sharing their expertise. In fact, almost two-thirds of Inc. 500 CEOs are currently contributing content to social media or taking ownership of a social media outlet.
While LinkedIn is designed to serve the business community, these 2012 Inc. 500 companies are also taking advantage of more personally oriented networks to serve their business interests.  Foursquare usage has more than doubled over the last year and blogging has gained even greater momentum, especially among software, advertising, and media companies. YouTube usage has declined by 15 percent, while the relatively new Pinterest has rapidly risen to an 18 percent usage rate.
In 2013, 44 percent of 2012 Inc. 500 companies plan to increase their investments in social media, while 41 percent plan to keep their allocations the same. Social media has become a regular part of many business plans, yet professionals have mixed views on its role in business growth based on their personal experiences.
When it comes to ROI, about one-third of 2012 Inc. 500 companies said they were able to see a financial return on their social media efforts. Within that group, almost 20 percent claimed that social media has helped to reduce their recruiting costs.
Social media has officially joined the professional ranks, as shown by its mass adoption by 2012 Inc. 500 companies. Among these leaders, LinkedIn has become the top choice for their socially oriented professional needs and is expected to remain their leading link to the business community.
To learn more about using LinkedIn in your company's social media marketing strategy, contact MDG today at 561-338-7797 or visit www.mdgsolutions.com.
MDG, a full-service advertising agency with offices in Boca Raton and New York, NY, is one of Florida's top creative ad agencies. Our 360° approach uses just the right mix of traditional and digital marketing to reach your advertising goals. While some industries may fare better in print and others online, we strive to create a balanced approach, where traditional, digital, and social media marketing efforts support each other and your message is tailored to the medium. Our core capabilities include branding, logo design, creative, digital marketing, infographic development, integrated media plans, print advertising, radio and TV advertising, online video, Web design and development, email marketing, social media marketing, and SEO.
Read more at Marketingprofs.com.