Linking Search & Social Results In A 94% Higher Click-Through-Rate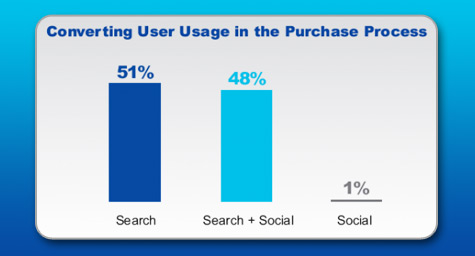 According to a recent report by GroupM and comScore, when consumers were exposed to both search and social media influenced by a brand, the overall search click-through-rate increased by 94 percent. These results support the idea that social media has become critical for product or brand awareness and subsequent search behavior. Search Engine Land outlined the findings of this consumer behavior report that examined the connection between social media and search on the consumer purchasing path.
The report showed that while 60 percent of online purchases begin with search, about 40 percent of consumers that use search also consult social media to further their purchasing decision. Search is considered to be the research and pricing tool throughout the purchasing cycle. Social media is defined as blogs, Facebook, Twitter, YouTube and consumer reviews.
While the majority of respondents said they begin with search and use it throughout the purchasing process, 28 percent said that social media is important in helping them become aware of new products and brands, and 30% said it helped them eliminate brands from consideration.
In addition, increasing amounts of user-generated content and opinion may be lengthening the purchase process, with the report identifying up to 11 digital steps that consumers make from start to finish.
In terms of the best performing social media during the purchasing process, 30 percent of respondents looked to user reviews, 17 percent used social networks, 14 percent checked out video sharing and nine percent turned to Twitter.
After a purchase, the report showed that 64 percent of consumers are likely to follow a brand, with the majority preferring a Facebook brand page as the format for following for future engagement.
"As the Google ranking algorithm evolves to include social factors, especially as it relates to providing users with product or service listings in competitive SERPs, you have to work towards building a purchase and discovery process which accommodates demand.  The traditional buying process online is rapidly changing as social networks become focal points for consumer reviews", said Charlie Ellis, SEO strategist at MDG.
Charlie Ellis is the SEO strategist at MDG. MDG, a full-service Florida advertising agency, with offices in Boca Raton and New York, NY, specializes in developing targeted Internet marketing solutions, exceptional creative executions and solid branding and media buying strategies that give clients a competitive advantage.Our core capabilities include print advertising, branding, logo design, creative, digital marketing, media planning and buying, TV and radio advertising, public relations, Web design and development, email marketing, social media marketing and SEO. View MDG's creative marketing portfolio.
Connect with MDG on Facebook, Twitter and YouTube