Luxury Marketers Catch Up on Digital Marketing Formats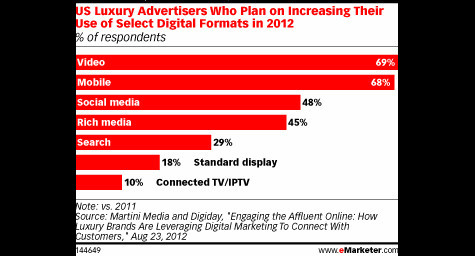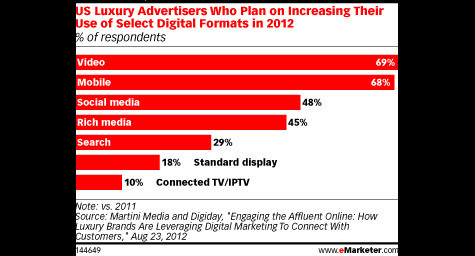 Luxury brands have finally caught up with digital marketing tactics despite their initial worry that online ads would diminish their air of exclusivity. Yet given the prevalence of upscale shoppers making their purchases online, luxury marketers are realizing that the Web is where they want to be in order to reach these coveted consumers who spend so much of their lives online. In fact, further evidence of this shift to digital marketing was shown in a recent survey of advertising firms and marketers serving a luxury clientele, conducted by Martini Media and DIGIDAY. eMarketer.com reported on the results of the survey that revealed the new digital direction and dynamic of luxury marketing.
According to the survey, more than 40 percent of respondents said that their luxury clients were moving into digital marketing faster than their mass-market counterparts and more than one-third were getting involved at a similar rate.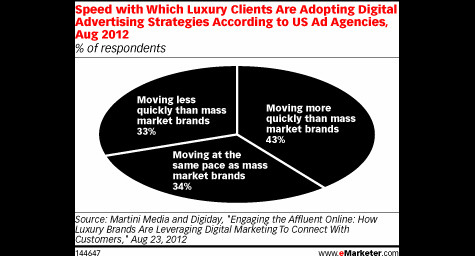 Despite any early hesitation, luxury advertisers have become just as innovative with their choice of digital marketing formats as standard brands. The study showed that 69 percent of respondents planned to increase their use of online video for upscale brands, followed closely by 68 percent intending to boost their mobile campaigns. Social media and rich media usage were expected to be used more frequently by almost half, with search marketing on the rise for almost 30 percent.
The major impact that online video can provide has enticed many luxury brands to finally explore the medium. They feel that the format can offer an outstanding user experience while properly conveying the allure of their brand and products. The ubiquity of mobile ownership among the affluent audience has also shown luxury brands the power of mobile to provide outstanding and ongoing reach with these upscale consumers.
With the entrance of luxury brands into the digital marketing arena, consumers can be assured that luxury marketing will never look the same.
To learn how savvy digital marketing can increase your luxury brand's reach to upscale consumers, contact MDG.
At MDG, our 360° marketing approach uses just the right mix of traditional and online media to reach your digital marketing goals. While some industries may fare better in print and others online, we strive to create a balanced approach where digital and traditional advertising efforts support each other and your marketing message is tailored to the medium. To stay on top of the latest luxury marketing trends that will make an impact for your upscale brand, contact MDG.
Read more at Emarketer.