Red Stripe Beer Makes Music in London Shop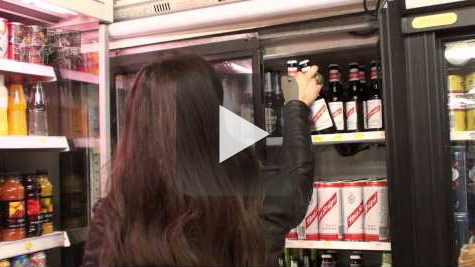 Red Stripe recently debuted a YouTube video of their refreshing digital feat. The beverage brand hacked an East London corner shop, rigging it to play a Reggae-type tune any time a person picked up a Red Stripe. The company also rigged certain snack food bags to shake, and various store items to move to the beat. The sudden music was a surprise to everyone in the store and caused many patrons to start dancing in the aisles. The tropical rhythm was totally in tune with the Red Stripe's Jamaican heritage and laid-back island image.
Red Stripe pulled off this playful video marketing promotion by bringing in creative technologists and virtual-reality experts to digitally wire products to respond to both physical touch and pre-programmed commands. Their goal was to give the impression that the store was literally coming to life.
Still, developers faced the element of the unknown since they were uncertain of the way that store patrons would interact with the planted merchandise. They had to account for every possibility and problem to ensure a great experience for all. To capture every minute and angle of the action, numerous cameras were placed throughout the small shop and the footage from that musical marvel was turned into a stirring and sharable Red Stripe YouTube video.
To learn more about the latest trends in video marketing and how to incorporate YouTube into your digital marketing strategy, contact MDG today at 561-338-7797, or visit www.mdgsolutions.com.
MDG is a full-service advertising firm and one of Florida's premier digital marketing companies, with offices in Boca Raton and New York, NY. MDG specializes in developing targeted integrated marketing solutions, exceptional creative executions, and solid branding and media-buying strategies that give clients a competitive advantage. Our core capabilities include print advertising, branding, logo design, creative, digital marketing, media planning and buying, radio and TV advertising, video marketing, Web design and development, email marketing, social media marketing, and SEO. View MDG's creative marketing portfolio.
Check it our on YouTube.