Marilyn Monroe Officially Joins Twitter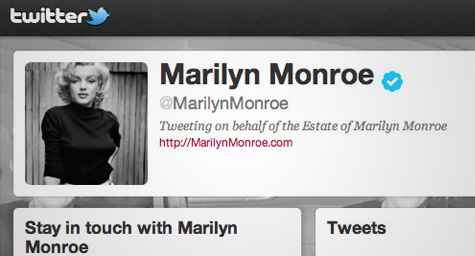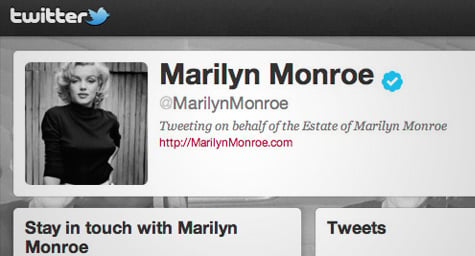 Twitter recently welcomed a new member by the name of Marilyn Monroe. The owners of Marilyn Monroe's estate, Authentic Brands Group, designated @marilynmonroe as the official voice of the estate of the late actress. CNNMoney.com reported on how the icon's legend is living on online.
To ensure the authenticity of the Twitter accounts of celebrities and politicians, Twitter has established a verification program that places a turquoise check next to the person's name. Marilyn Monroe's account features that blue check mark.
The decision for the late actress to "join" Twitter occurred 18 months ago when Authentic Brands Group purchased the rights to all Marilyn Monroe properties for an estimated $20 million to $30 million. For now, the tweets are comprised of the icon's well-known quotes and include mentions of television shows and movies that refer to the Marilyn Monroe brand.
"We picked the person who handles our social media to tweet for the estate now," said Nick Woodhouse, chief marketing officer at Authentic Brands Group. "Over the next few months, we'll figure out our strategy to make sure we're properly representing who Marilyn is."
The legend's Twitter following is currently low, with fewer than 14,000 followers, but the icon has a strong social media presence on Facebook with almost 2 million "likes."
Social media has become a popular platform for stars no longer with us, ranging from Michael Jackson to Elvis Presley. Now, Twitter's solid verification program is encouraging the estates of other famous names to seek verified accounts of their own. It appears that through the magic of social media, the mystique of Marilyn Monroe and other lost legends can live on for a virtual eternity.
To discover how social media can breathe new life into your business, contact MDG.
MDG, a full-service Florida advertising agency with offices in Boca Raton and New York, NY, specializes in developing targeted Internet marketing solutions, exceptional creative executions and solid branding and media buying strategies that give clients a competitive advantage. 
Our core capabilities include  branding, digital marketing, media planning and buying, TV and radio advertising, customer relationship management, video marketing strategies, inbound marketing programs, Web design and development, email marketing, infographic design, social media marketing, local search and SEO. View MDG's creative marketing portfolio.
Read more at Cnn.com.