Marketing Forecast: U.S. Major Media Advertising Spending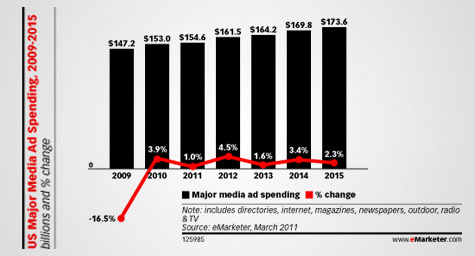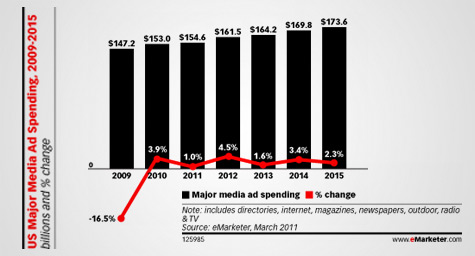 eMarketer recently released a report that revealed U.S. spending on major media will continue its slow recovery this year from the recession and proceed to make cumulative increases through 2015. These major media channels include television, Internet, print, radio, directories and outdoor, but the big picture in ad spending shows that digital is steadily seizing a substantial share from several mainstream advertising media.
A breakdown of the U.S .major media advertising market clearly shows that digital has become essential for marketers. In 2010, online ad spending broke records and is on track to continue that trend between 2011 and 2015. Online advertising dollars have already surpassed newspaper spending, and will exceed all of print by 2013. Analysts expect that print media will continue to lose ad dollars to digital channels over the next four years. While mobile spending is also increasing, its segment of digital dollars remains small.
Still, traditional media has its role in the market. Television ad spending is predicted to maintain a market share of approximately 39 percent and enjoy healthy growth. This finding shows that TV is not being negatively affected by the shift to digital. In fact, TV remains the most important advertising medium in the nation. Whether the medium can avoid an eventual digital domination is a topic the industry is watching very closely.

MDG, a full-service Florida advertising agency, with offices in Boca Raton and New York, NY, specializes in developing targeted Internet marketing solutions, exceptional creative executions and solid branding and media buying strategies that give clients a competitive advantage.Our core capabilities include print advertising, branding, logo design , creative, digital marketing, media planning and buying, TV and radio, public relations, Web design and development, email marketing, social media marketing and SEO. To view MDG's portfolio, click here.