New Year's Resolutions to Resolve Your Marketing Issues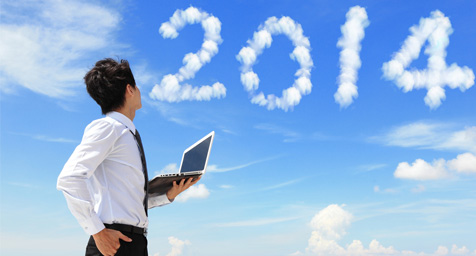 In 2014, business will be personal and providing a personalized customer experience will determine your brand's sales and success. In fact, recent research showed that 83% of consumers would spend more on a product or service if they felt a personal bond with the brand. To help your business build a connection that makes consumers relate and respond, MediaPost.com offered some marketing tips to make 2014 your personal best.
1. Don't Abandon Cart Abandonment Remarketing – Marketing and branding experts are finally seeing how cart abandonment remarketing campaigns can generate great conversion rates. After all, these shoppers have shown a very strong interest and many just need that final push to purchase the products they've chosen. This is the perfect time to remarket to these promising prospects, engaging with emails related to their recent visit. Rather than sending a coupon or discount, fill these emails with educational content targeted to this research phase to help them make their decisions.
2. Use Physical Stores to Drive Digital Opt-Ins – With mobile and POS technologies making it simple to capture digital opt-ins, you should capitalize on this opportunity to develop relationships with shoppers in-store. Have cashiers or roving employees politely ask shoppers for opt-ins. Also place signage throughout the store inviting customers to send a text or scan a QR code to opt-in to email programs.
3. Personalize Your Websites to Build Personal Links – When you offer a more personalized online experience, people will stay, search, and shop on your site much longer. Now, new technology makes it easy to understand your virtual visitors at every stage of the sales funnel, which lets you personalize every phase of their Web experience. Start by offering product recommendations based on prior purchases or special content customized to the prospect's place in the purchase cycle.
4. Move into Location Marketing – Reaching consumers with the right message, in the right place, and at the right time is right on target with the future of marketing. Use the new iBeacon microlocation technology and tap your existing demographic and behavioral data to customize the content you send to shoppers, such as personalized sales alerts and customized coupons. Enhance these high-tech efforts by sending creative communications like rewards for recent visits or up-sells for products related to purchases.
5. Use Buyer Intelligence to Craft Smarter Strategies – With all of the data and details you have on your customers, you have an abundance of buyer intelligence that can make your marketing more engaging. Work that wisdom into your marketing programs to boost their relevance and resonance. Start by crafting customized content to send at every stage of the buying cycle, as well as designing new retention programs to build bonds with your very best customers.
Take these tips into 2014 to give customers an experience that exceeds their expectations and makes your brand their personal favorite.
See what's new and what's next in digital marketing. Contact MDG today at 561-338-7797, or visit www.mdgsolutions.com.
MDG is a full-service advertising agency and one of Florida's top branding firms. With offices in Boca Raton, FL and New York, NY, MDG's core capabilities include branding, logo design, digital marketing, print advertising, email marketing, media planning and buying, TV and radio advertising, outdoor, newspaper, video marketing, Web design and development, infographic development, content marketing, mobile marketing, social media marketing, and SEO. To learn more about digital marketing, contact MDG today at 561-338-7797.