Marriott Evolves to Accommodate Younger Guests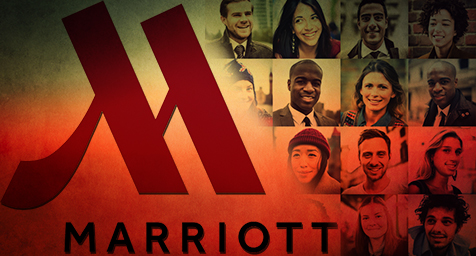 While we all want to stay young, Marriott wants the young to stay with them. That's the sentiment behind Marriott International's strategy to attract a younger crowd to its many hotels. And there's no room for error since Marriott expects that globally minded Millennials will occupy one-third of all business-room nights in the U.S. by 2020. As a result, Marriott is striving to revamp its image in order to capture more of these young business travelers and then keep them as they explore the world for leisure. The New York Times explained how the company is hoping that some savvy hotel marketing will make Marriott the hip place to be for this young generation of globetrotters.
According to Marriott chief executive Arne M. Sorenson, Marriott is relying on a range of hotel marketing strategies to make the classic company more contemporary.
One approach is updating and upgrading their core hotels with features favored by younger consumers. Their main Chicago property just received $40 million worth of improvements, which included enhancements like more attractive guest rooms and a much better bar area. And one of their Detroit locations will embark on a similar $30 million renovation this month.
Marriott is also refreshing its hotel marketing strategy with a new ad campaign designed to reflect and resonate with younger audiences. The TV and Web ads take an aspirational tone by expressing that travel should be brilliant and that rooms should be as expansive as the imagination.
In addition, the company is tapping into the tech-savvy tendencies of younger markets with a free smartphone app that mixes reservations with games that reward players with loyalty club points.
Yet Marriott knows that while changing the old is progress, starting something new holds the most potential. That's why the company is developing new brands with a boutique hotel ethos. Marriott is planning to bring its fashionable AC Hotels chain to the United States from Europe this year, but an even greater venture is the company's recent collaboration with boutique hotelier Ian Schrager on a hip and happening hotel chain in London called The Edition. Marriott is planning to open a new location in Manhattan, followed by nine more elsewhere.
While many view Mr. Schrager's wild and whimsical hotel aesthetic as the anti-thesis to Marriott's standard and stodgy image, others believe that the combination complements one another and will bring a higher level of service and discipline to the carefree culture of boutique hotel brands. This could give Marriott a competitive edge against the abundance of boutique hotels and bring in the younger consumers who want the best of both worlds, all over the world.
Check in to check out the latest trends in hotel marketing. Contact MDG today at 561-338-7797 or visit www.mdgsolutions.com.

MDG, a full-service advertising agency and branding firm with offices in Boca Raton and New York, NY, is one of Florida's top hotel marketing companies and branding firms. MDG's core capabilities include advertising, branding, logo design, creative, digital marketing, creative media planning and buying, radio and TV advertising, Web design and development, email marketing, content marketing, social media marketing, and SEO. To stay on top of the latest trends in hotel marketing and advertising, contact MDG today at 561-338-7797.