Marriott Links Up with MIT for New Six Degrees App to Accommodate High-Tech Hotel Guests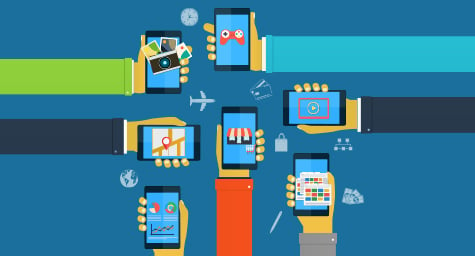 Hotel stays can be lonely for lone travelers, but now Marriott is making it easy to be social while traveling solo with its new Six Degrees app. Marriott connected with MIT researchers and students to develop the app to improve the guest experience for its more mobile-minded, younger business travelers. Six Degrees will essentially transform the hotel lobby into a hot spot for real-time social interaction. It will enable strangers to meet up with fellow guests who share their personal and professional interests. FastCompany.com explained how the social app should be warmly welcomed by solo travelers trying to link up with friendly faces.
"The industry as a whole has suffered from a lack of innovation," said Paul Cahill, Marriott's senior vice president of brand management. "We want to start with mobile—the idea of helping people travel better is all around the mobile device. Consumers today, and definitely tomorrow, are almost lost without their mobile device."
Six Degrees will allow hotel guests to sign in using their LinkedIn accounts and then match their online profiles to other guests based on similar interests and shared experiences. Once the app has made the matches, it will send notifications to the individuals so they can make plans to meet up during their Marriott stays.
The app will also send that information to the hotel staff so they can arrange social gatherings, such as group getaways for the day and industry networking events based on the matched guests at that time.
Along with these online elements, guests will be greeted by a series of physical lobby features. A large interactive digital screen will post upcoming social events and successful guest matches to encourage solo travelers to select to connect. And an LED table will literally light the way for guests to get together. When guests place their mobile devices on this high-tech table, the LEDs will light up based on their connections to other people at the table.
Guests need not worry about protecting their privacy because Six Degrees does not share guests' photos or last names with random strangers. In fact, an early version of the app connected with Facebook, but testers thought this was too personal and preferred to keep it more professional by arranging link-ups through LinkedIn.
The app is still in development, but Marriott plans to test the final version in approximately 12 hotels in various markets before rolling it out to all 500 global locations.
Interestingly, the app was inspired by an MIT Spring 2013 undergraduate class and completed by MIT's Mobile Experience Lab. This was an unconventional collaboration for Marriott, which has previously partnered with hospitality schools and art institutions on other projects.
But now that the hotel brand is focusing on innovation and targeting the tech-savvy travelers of tomorrow, this alliance with a leading computer science school clearly clicked with their goals for growth.
Stay up to date on the latest in high-tech hospitality trends. Contact MDG today at 561-338-7797 or visit www.mdgsolutions.com.
MDG is a full-service advertising agency and one of Florida's top branding firms. With offices in Boca Raton and New York City, MDG's core capabilities include creative, branding, logo design, print advertising, digital marketing, mobile marketing, email marketing, media planning and buying, TV and radio, outdoor advertising, newspaper, video marketing, Web design and development, content marketing, lead generation, mobile marketing, social media marketing, and SEO. To discover the latest trends in branding and advertising, contact MDG today at 561-338-7797.