Mayo Clinic Center for Social Media Seeks to Improve Global Healthcare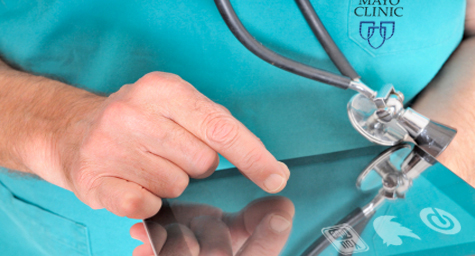 Social media is redefining the way that people research and receive healthcare today. Now, the Mayo Clinic is striving to help everyone use social media tools to get the best medical information, connect with healthcare professionals, engage with like-minded patients, and inspire healthier lifestyles with the launch of the Mayo Clinic Center for Social Media (MCCSM). The organization's blog recently explained more about this first-of-its-kind social media healthcare hub.
The Mayo Clinic Center for Social Media is committed to making social media a mainstream part of the healthcare experience by helping patients and providers use these revolutionary tools to engage with each other and improve the quality of care. Their goal is to accelerate the adoption of social media for healthcare discovery and delivery, beginning within the Mayo Clinic and then expanding to the global population through their Social Media Health Network. This network is an online community that provides social media news, discussion forums, training materials, and other healthcare resources to its members. Mayo Clinic is striving to use this network to promote health literacy and enhance healthcare services around the world.
The Mayo Clinic Center for Social Media builds on the organization's renowned leadership and reputation in the healthcare industry. Mayo Clinic was among the first to embrace social media with their adoption of podcasting in 2005. Today, the organization has more than 550,000 Twitter followers, more than 380,000 Facebook fans, and the most popular medical provider channel on YouTube. They have also been a pioneer in hospital blogging with their news blog, podcast blog, and a special blog called Sharing Mayo Clinic that lets patients and employees share their personal experiences at the acclaimed center.
Mayo Clinic also understands the value of social media for internal communications. In 2008, they broke new ground by launching a blog that encouraged employee dialogue about the organization's strategic plan. This internal blog featured innovative use of video and an exclusive employee newsletter. Their progressive approach to employee engagement has earned them recognition as one of Fortune magazine's "Best Places to Work."
Demonstrating just how relevant social media has become in modern medicine, Mayo Clinic is hosting Social Media Week at Mayo Clinic in October. The event features an intense, hands-on Social Media Residency Program focused on the strategic application of social media in healthcare. Physicians will receive credits for the classes.
While social media has started to play a role with patients and providers, the support of a healthcare leader like Mayo Clinic can ensure that social media becomes a primary part of the healthcare experience.
See how MDG helps hospitals, practice groups, and medical products and services companies harness powerful new media. Contact MDG.
MDG, a full-service advertising agency with offices in Boca Raton and New York, NY, is one of Florida's top healthcare marketing companies, whose clients include Dental Care Alliance, MDVIP, Max Planck Florida Institute, Primary Pharmaceuticals, and HCA East Florida. MDG's 360° approach uses just the right mix of marketing media to reach your advertising goals, where traditional, digital, and social media marketing efforts support each other and your message is tailored to the medium. To learn more about the latest trends in healthcare marketing, contact MDG. For a better understanding of how the digital age is redefining healthcare, see MDG's informative infographic, "The Digital Diagnosis."