Mayo Clinic Gains Healthy Engagement from #StrongArmSelfie Campaign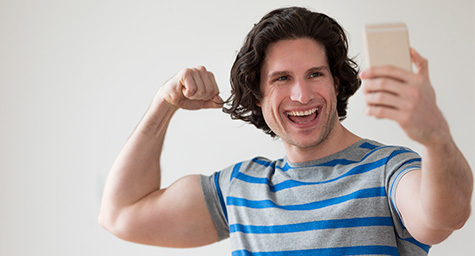 Mayo Clinic is experiencing great outcomes from its collaboration with Fight Colorectal Cancer's One Million Strong #StrongArmSelfie 2015 campaign. The digital healthcare marketing effort is intended to raise awareness for colorectal cancer screening. The campaign encourages people to post photos on social media of themselves flexing their arms. Since its launch in early March, the campaign has prompted tens of thousands of people to post, view, and share these photos across social media, as well as watch the online video for the campaign's country music anthem. John Weston, chief marketing officer for Mayo Clinic, recently discussed this online healthcare marketing strategy on HealthLeadersMedia.com, then shared his views on why it's vital for hospital marketers to go digital.
The campaign has delivered strong results. At last count, the #StrongArmSelfie hashtag has been used more than 11,000 times on various social platforms, including 6,900 engagements on "related posts" on Facebook and 3,600 posts on Twitter.
And the video for the campaign's anthem "Stronger Than That" by Craig Campbell has been viewed more than 14,500 times on YouTube and 43,000 times on Facebook. The video was even broadcast on a giant screen in Times Square in New York City.
While healthcare organizations have traditionally been conservative about embracing new kinds of marketing, digital approaches are finally gaining momentum and this year has brought an increase in the number of hospitals using online and social media marketing strategies.
Mr. Weston attributes this rise to the realization that today's consumer experience begins online and that digital channels are where consumers discover, learn, and share information, especially health and wellness information.
"When consumers have a moment of need, their journey goes in three directions," said Mr. Weston explained. "They ask loved ones what they should do, they ask their physician what they should do, and they search online. Mayo Clinic wants to engage consumers in each of these activities with our primary focus on interacting with them digitally."
Mayo Clinic is clearly devoted to taking part in this digital health and wellness environment. In fact, digital marketing is the main focus of their marketing efforts and represents more than two-thirds of their healthcare marketing activity. They plan to increase their digital investment in the future. Their team strives to seamlessly integrate digital social media tools into their marketing campaigns in order to connect with patients at the moment they need them, about the condition that's troubling them. They also leverage their wealth of health information to educate consumers about conditions and diseases, whether they are experiencing them or not. It's considered part of their moral mission to share their knowledge and skill to help the community.
Mayo Clinic believes that such a digital connection and communication is critical for both their organization, as well as the entire healthcare industry.
"Consumers check out symptoms, providers, and treatments, often before even seeing a provider, and in fact, a significant amount of consumers self-diagnose," Mr. Weston explained. "Digital marketing allows healthcare organizations to meet the consumers where they are, targeting patients at their specific moment of need based upon their specific condition."
Check out what's happening in healthcare marketing. Contact MDG today at 561-338-7797.
MDG, a full-service advertising agency with offices in Boca Raton and New York City, is one of Florida's top healthcare marketing companies and branding firms, whose healthcare clients include Dental Care Alliance, MDVIP, Max Planck Florida Institute, HCA East Florida, Primary Pharmaceuticals, and MD Now. MDG's core capabilities include branding, logo design, print advertising, digital marketing, mobile marketing, email marketing, media planning and buying, radio and TV advertising, outdoor, newspaper, video marketing, infographic development, website design and development, content marketing, social media marketing, and SEO. To learn more about the latest trends in healthcare marketing, contact MDG today at 561-338-7797.