Mazda Drives Out the TV Ad of a Lifetime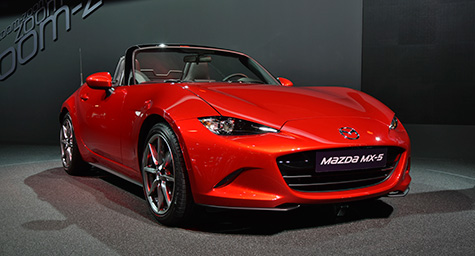 Our cars drive us through both the miles and milestones of our lives. Mazda captured this sentiment in their new "Driving Matters" TV commercial for their 2016 MX-5 Miata. It takes a sentimental look back at the car-related milestones in one man's life. The campaign was created by WPP's The Garage/Team Mazda to form an emotional tie between the pure pleasure of driving and the Mazda brand. As the man's life story unfolds on the screen and reveals his Mazdas at each age and stage, the emotional link is driven home by the ad's touching voiceover by Breaking Bad star Aaron Paul. Featured as AdWeek's Ad of the Day, Adweek.com posted more on this moving Mazda campaign.
The ad steers viewers through the turning points in one man's life, which are all reflected in the Mazdas he drives. These include getting his first Mazda as a teenager, falling in love in a Mazda convertible, and putting his kids in a Mazda mid-size wagon. The man's story is shared in a sweet rhyme and his emotions are reflected in the tone of the voiceover. The TV ad closes with the familiar "Zoom, Zoom" slogan, which Mazda has retained for 15 years.
"It all comes down to the fact that driving matters to our customers," said Russell Wager, VP of marketing at Mazda N.A. "And it matters to us."
Discover what's working in TV advertising. Contact MDG today at 561-338-7797 or visit www.mdgsolutions.com.
MDG, a full-service advertising agency with offices in Boca Raton and New York, NY, is one of Florida's top branding firms. MDG's capabilities include print advertising, direct mail marketing, branding, logo design, creative, digital marketing, media buying and planning, radio and TV advertising, Web design and development, online video advertising, email marketing, content marketing, social media marketing, and SEO. To learn about the latest trends in advertising and branding, contact MDG today at 561-338-7797 or visit www.mdgsolutions.com.