MDG Cooks Up a New Website for TooJay's Original Gourmet Deli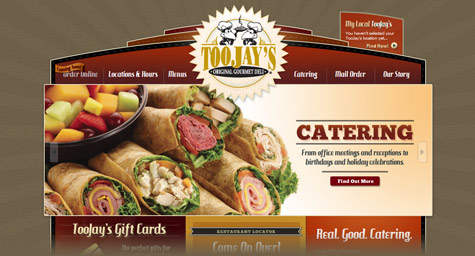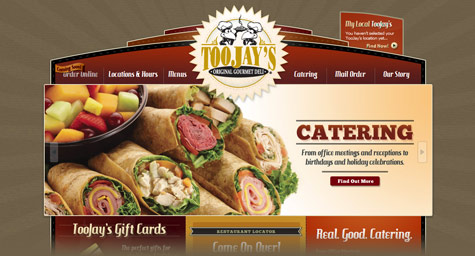 MDG recently served up a comprehensive website redesign for TooJay's Original Gourmet Deli (www.toojays.com). Founded in 1981 on the island of Palm Beach, TooJay's has become a Florida institution, with 24 restaurants throughout the state. Known for their large menu of fantastic comfort foods, amazing corned beef, superb desserts, and outstanding catering services, our goal was to create something that was as unique and kitschy as the restaurants themselves.
To keep up with its growing popularity and today's need for a strong digital presence, TooJay's asked MDG to redesign their website to be more compelling and informative to provide a better user experience. The goal of the website redesign was to make the new website more welcoming, visually appealing, and user friendly to better reflect the warm environment, enticing food, and genuine enjoyment that make TooJay's such a reliable crowd-pleaser.
From a visual perspective, the new website design is clean and colorful while maintaining the signature colors of the TooJay's brand. It's attractive to both the eye and the palate with large photos of TooJay's menu specialties and clear descriptions of their numerous offerings, services, and restaurant information.
On a structural level, MDG's digital team improved the overall website design and site architecture, as well as the onsite SEO and user experience. Some features of the new website include:
Custom design that provides a look and feel reminiscent of the brick-and-mortar locations.
An area or zip code restaurant locator, along with individual location listings, that automatically display, based on distance from the user's location (nearest to farthest) with the approximate mileage.
A "My Local TooJay's" setting that permits the user to choose their preferred location and provides a persistent callout in the header with that location's address, phone number, and additional location information.
Robust, custom menu system that allows TooJays to add, edit, delete, highlight, and configure menus and menu items using simple drag-and-drop and WYSIWYG functionality.
Ability to purchase gift cards online, as well as purchase and send a variety of items via mail order.
Full social media integration.
Separate mobile website allowing users to quickly and easily access location, contact and menu information directly from their smart phone.
TooJay's Original Gourmet Deli Mobile Site


While all of these additions were focused on improving the user experience, MDG also upgraded the website's content management experience. The new advanced content management system allows TooJay's to quickly and easily manage its website content, including menus, menu items, restaurant locations, testimonials, career opportunities, company information, and more. This allows them to easily keep the website up to date, which ultimately encourages people to regularly visit the site to discover the latest news and additions. This will help TooJay's connect more frequently with its customers, which promotes greater loyalty and more restaurant visits, while simultaneously improving their search rankings.
Finally, the new site provides prominent links to TooJay's social media pages and displays their Twitter updates on the home page. Since social media has gone mainstream, this allows yet another way for TooJay's to connect and communicate with their customers.
For a taste of the new TooJay's website, visit toojays.com or click here.
To discover the benefits of the latest trends in website design and site architecture, as well as improved onsite SEO, user experience anf full social media integration for your restaurant's website and online marketing strategy, contact MDG.
At MDG, a full-service Florida advertising agency with offices in Boca Raton and New York, New York, our 360° marketing approach uses just the right mix of traditional and online media to reach your restaurant marketing goals. While some industries may fare better in print and others online, we strive to create a balanced approach where digital and traditional marketing efforts support each other and your marketing message is tailored to the medium. To stay on top of the latest trends in restaurant marketing, contact MDG.