MDG Creates New Television Advertising Campaign for TooJay's Original Gourmet Deli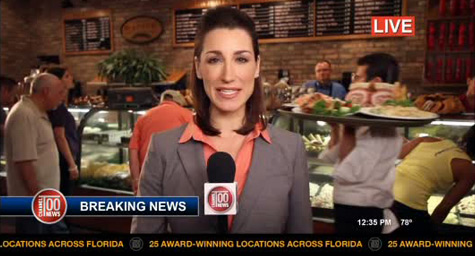 MDG has created a new television advertising campaign for TooJay's Original Gourmet Deli to promote the vast menu selections at their 25 Florida locations. TooJay's offers an extensive menu of traditional deli fare, gourmet specialties, comfort food, healthy choices, and decadent desserts, served in a fun, family-friendly, casual dining atmosphere. The new "Channel Surfing" campaign is comprised of a series of 15- and 30-second TV spots inspired by channel surfing, and illustrate TooJay's high quality-to-value message.
The commercials realistically simulate the experience of channel surfing, with each channel devoted to a specific television genre that seamlessly incorporates TooJay's specialties into the content of the program. In the TV ads, one channel features a newscaster breathlessly reporting live from the restaurant's deli counter. The channel suddenly switches to a home shopping network with a chef selling TooJay's famous Reuben sandwiches. Then the channel switches again to reveal an emotional soap opera scene with an actress holding a plate of fresh-baked rugalach. The channels proceed to scenes that include a weather forecast and press conference, with each scenario incorporating menu items in a humorous and engaging way. The commercials conclude with the emergency-broadcast system screen featuring the TooJay's logo and website, and then turns black to replicate the television being turned off.
"We wanted to catch viewers by surprise and showcase TooJay's much-loved specialties, extensive menu, and great value," said Michael Del Gigante, president and executive creative director of MDG. "The universal experience of channel surfing served as the perfect backdrop for engaging and connecting with viewers to create a memorable and effective impression."
About MDG
MDG is an award-winning, full-service advertising agency specializing in creating communications strategies and engaging brand experiences. With offices in Boca Raton, Fla. and New York, N.Y., we develop and execute innovative ideas that unify marketing, technology and ingenuity to deliver measurable value throughout all communications.
Our core capabilities include creative, local and national television advertising, video marketing, digital marketing, media buying, public relations, Web design and development, social media and SEO. For more information about MDG's integrated services, view the agency's creative advertising portfolio, or log on to www.mdgsolutions.com.