MDG Earns Top 12 Spot in National Social Media Competition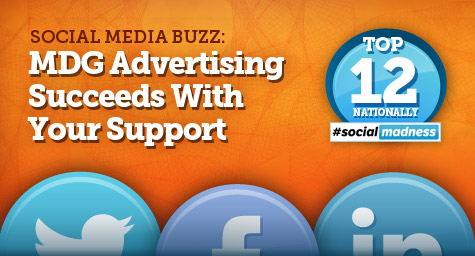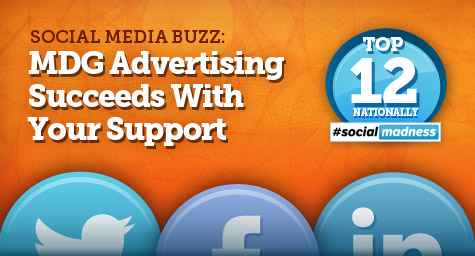 MDG is proud to announce that our agency not only won The Business Journal's South Florida Social Madness Challenge, we also ranked in the top 12 nationally in our division. The competition was an innovative corporate challenge that gauged the growth of a company's social media strength, all in the name of charity. We battled through seven rounds, including six head-to-head bracket rounds and months of social media competition. No other social media agency in the country went farther. We're really proud of that!
More importantly, we're overwhelmed by the outpouring of support we received from our social media community and are grateful that they gave us such a strong social advantage.
The three incredible South Florida charities we featured also gave us tremendous support throughout the competition. Their enormous generosity has inspired us to follow their example, so in the spirit of sharing our success, we're making donations to not one, not two—but all three of these deserving charities.
The Bobby Resciniti Healing Hearts Foundation – A haven providing help in the healing process for parents and guardians suffering from the loss of a child or children.
Achievement Centers for Children & Families – An agency helping low-income families and children by providing educational readiness, social services, and resources to help them achieve success in school and in life.
Make-A-Wish Foundation® of Southern Florida – An organization dedicated to fulfilling the wishes of children with life-threatening medical conditions.
Connect with us to keep up with the latest topics, trends, and tidbits in advertising and marketing. 'Like' us on Facebook and 'follow' us on Twitter and LinkedIn to stay up to date with up-to-the-minute highlights, happenings, and hot trends in the industry, along with videos and infographics on the marketing matters that matter most.

To learn how to improve your company's social media marketing results, contact MDG today at 561-338-7797 or visit www.mdgsolutions.com.
MDG, a full-service, award-winning Florida advertising firm with offices in Boca Raton and New York, NY, specializes in developing targeted Internet marketing solutions, exceptional creative executions and solid branding and media buying strategies that give clients a competitive advantage. Our core capabilities include branding, logo design, creative, digital marketing, print advertising, direct mail marketing, media planning and buying, TV and radio, Web design and development, email marketing, social media marketing, and SEO.