MDG Provides MD Now with a New TV Ad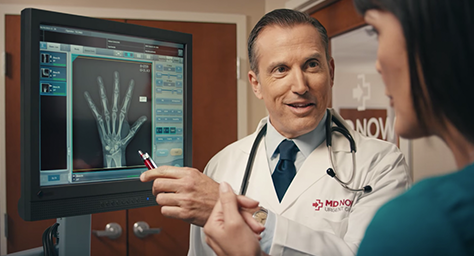 MD Now Urgent Care has been experiencing rapid growth and popularity in South Florida. To help MD Now increase its brand awareness, MDG developed an integrated marketing strategy that includes advertising, branding, digital development, and social media. MDG created and produced a TV campaign designed to increase brand awareness through broadcast and digital channels.
MDG developed the TV spot to meet a variety of growth-oriented and brand-centric goals, including:
·      Promoting top-of-mind awareness of new and current MD Now Urgent Care locations.
·      Reaching the target audience to increase their awareness of MD Now and its 26 South Florida locations.
·      Encouraging consumer trial of new and nearby MD Now locations.
·      Promoting brand preference for MD Now Urgent Care centers.
·      Supporting grand openings of new MD Now locations to increase their visibility and local awareness.
The TV spot opens by listing a number of personal examples of why patients seek treatment at MD Now. It continues by treating the viewer to a closer look inside an MD Now center. The ad then provides important information about the many qualities that distinguish MD Now from its competitors, such as experienced physicians available from 8 a.m. to 8 p.m., 365 days a year, as well as walk-in access and high-quality care that's both fast and affordable.
The ad reflects and reinforces the overall integrated marketing strategy developed by MDG. It clearly communicates that MD Now is the quick, convenient, and easily accessible solution to a family's urgent medical care needs.
Check out MDG's TV spots and videos on the MDG YouTube channel.
Keep up with the latest trends in healthcare marketing. Contact MDG.
MDG, a full-service advertising agency with offices in Boca Raton and New York, NY, is one of Florida's top branding firms. MDG's capabilities include print advertising, direct mail marketing, branding, logo design, creative, media buying and planning, radio and TV advertising, outdoor, newspaper, digital marketing, website design and development, online video advertising, infographic development, email marketing, video marketing, mobile marketing, content marketing, social media marketing, paid search marketing, and SEO. To learn about the latest trends in advertising and branding, contact MDG.